Share:
Alibaba stock has dropped 3.6% in Friday's premarket.
BABA is down 21% over the past month.
US inflation data is causing shares to recede on Friday.
Relations between China and the US are also worrying markets.
Alibaba (BABA) stock has lost another 3.6% to trade at $90.80 in Friday's premarket on the back of a higher than expected inflation reading for the US economy. The Personal Consumption Expenditure (CPE) index came in hot an hour before the stock market opened in New York. The MoM reading for January was up 0.6%, 50% higher than the 0.4% reading that was expected.
This is significant because the US Federal Reserve relies on the CPE to gauge the state of inflation, and the above trend verdict means that the central bank is likely to raise interest rates higher and longer than expected. NASDAQ futures fell 0.9% on the news.
Alibaba stock news: US, China tensions not making things easy
US-China relations have caused a major sell-off in Chinese ADRs over the past week. Alibaba stock is down 21% over the past month. While some of that is due to China's difficulty in delivering on the post-covid "re-opening" thesis, as poor Chinese industrial data continues to sour appetites, more recent news that China is in talks with Russia to begin supporting the latter's invasion of Ukraine with heavy weaponry are sending shivers down the spines of Western investors.
The news emerged recently when US Secretary of State Antony Blinken said China's overtures to Russia were worrying. If the aid taps in Beijing are turned on, it would very likely lead to the US slapping China with economic sanctions similar to those place on Russia following its invasion of Ukraine one year ago. Major sanctions would likely have a devastating effect on Chinese ADRs in the US market and could also simply lead to a reduction in global GDP.
Alibaba earnings news
Alibaba reported adjusted earnings per share of $2.79 for the most recent quarter on Thursday, alongside revenue of $35.92 billion. Both figures bested Wall Street consensus. Adjusted EPS came in $0.39 higher than expected, and revenue narrowly cleared the consensus bar by $40 million.
"We expect continued recovery in consumer sentiment and economic activity," said Daniel Zhang, Chairman and CEO, who admitted that covid precautions had eaten into the quarter's results. "We are focused on driving growth for our customers amid the competitive landscape, and creating sustainable, long-term value for our shareholders."
Chinese ecommerce sale arrived at $10.8 billion, while Alibaba Cloud revenue reached $3.9 billion. Truist Securities raised their price target on BABA shares from $120 to $130.
Alibaba stock forecast
Alibaba stock was already firmly in a downtrend before the unloved earnings arrived. The only hope for bulls is that BABA stock finds support at $85.70. This price level has worked since October of last year. A break there would send BABA stock hurtling down to long-term support at $73.28. The MACD indicator has been in a bearish crossover for weeks and look unlikely to show any promise in the near future. If BABA recovers, bulls will not join in until at least the stock clears $105.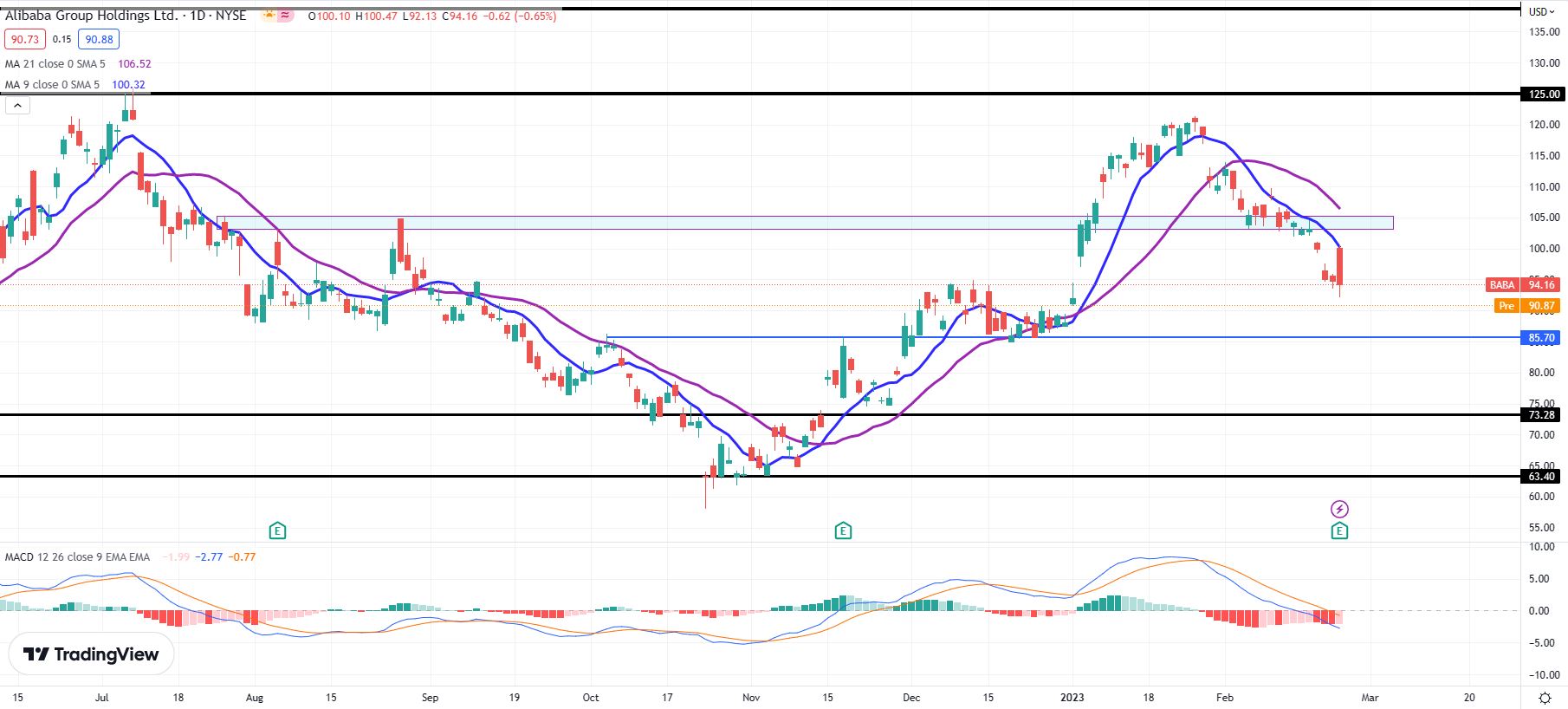 BABA daily chart
This article was originally published by Fxstreet.com.Read the original article here.