AMC stock accelerated its slide as risk appetite receded.
GameStop (GME) stock is down roughly 7% on Thursday.
AMC was trending heavily on social media last week but failed to rise.
Update, January 13: AMC extended its decline on Thursday amid fading risk appetite resulting in most US indexes losing ground on the day. The share trades at $21.17, down 6.82% heading into the close. Wall Street accelerated its decline in the final hour of trading, with the Nasdaq Composite being the worst performer, down roughly 300 points at the time being.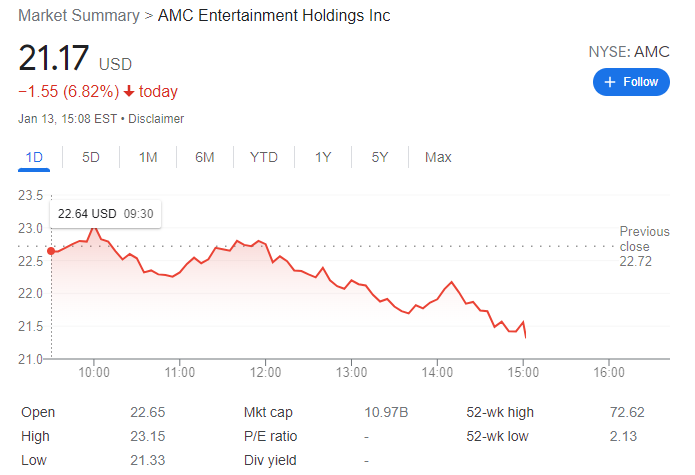 Previous update: AMC shares continue to trade on thin ice, as bears gather pace before the next push lower. Despite maintaining the bearish consolidative mode for the fourth straight day on Wednesday, AMC stock price lost 0.31% to settle at $22.72. The downside pressure remains intact, as AMC Entertainment CEO Adam Aron sells another $7 million of stock in the movie theatre giant, although said that he is done selling for now. Aron has sold more than $40 million in stock since November. Meanwhile, the overall optimism on the Wall Street indices did help cap AMC's losses.
AMC shares closed lower on Friday with a steep 3% fall as the stock shows signs of further waning momentum. Meme stocks had suffered as 2021 came to a close and so far early signs in 2022 are of more pain in the meme stock space. Now that the pandemic is hopefully coming to a close is this the end for meme stocks? This was after all the prediction for H2 of 2021 when economies reopening was due to curtailing retail frenzy trading. The advent of delta and other covid curtailments may have prolonged the meme party. This time is it finally over?
AMC stock news
Holders are pointing to strong fundamental data for AMC with movie attendance growing and this trend is set to continue with covid hopefully out of sight soon. However, let us face it AMC was never a fundamental investment. I think we can all admit this one trades at a huge fundamental valuation that is hard to justify. No this was pure momentum. The trick with momentum names is to get out early. Get in late to make sure the train is moving but get out early before it comes to a shuddering halt.
AMC stock forecast
AMC has never recovered from the key $34.60 level we identified in October. Once this broke it was straight through the 200-day moving average and AMC has not yet managed to recover. Now some hope identifies itself on the chart in the form of a potential double bottom. Friday's low at $20.80 exactly matched the low from December 14. Double bottoms are powerful reversal signals so if AMC can hold this may be a staging point for a rally. So this is the key short-term pivot in our view. Break and it is onward to $14, but hold and a test of $30 wouold be the next technical step.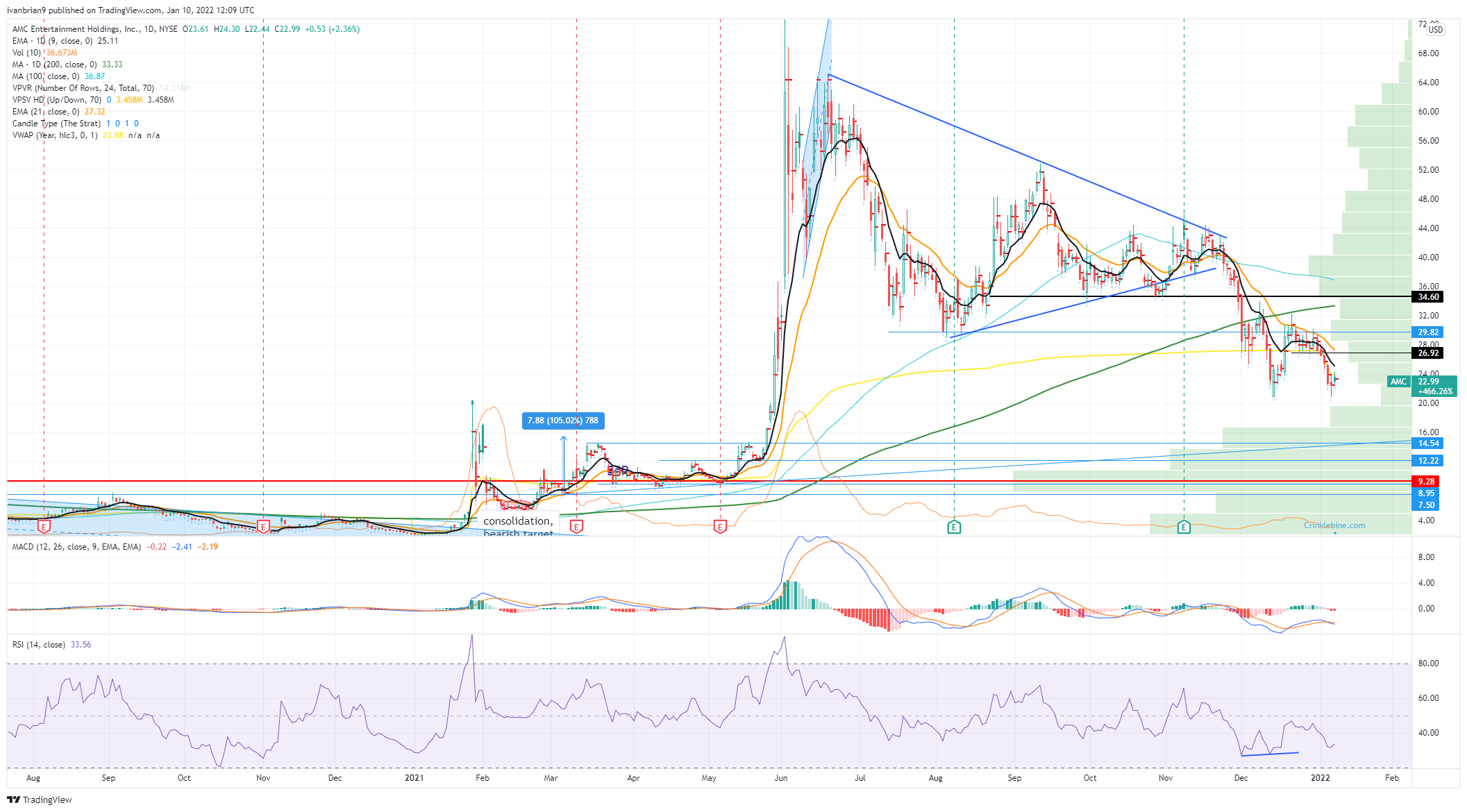 AMC stock chart, daily
Previous updates
Update: AMC shares ended the day down some 0.3% and fell from a high of $23.36 to a low of $22.05. Overall, stocks that were widely monitored by retail investors in the Reddit forum were a mixed bag on Wednesday.
There was a lack of news from the company and instead the technical outlook is on focus again. A break of $20.40 opens the risk of a move all the way into $14.50 for the days ahead where resistance is seen near $29.20. From an hourly perspective, the bears will be seeking a break of the dynamic trendline support and then $22.06. To the contrary, a break of $26.10 would be significant for the bulls.
Update: AMC shares witnessed another up and down session on Tuesday before finishing the day flat at $22.78. The bulls finally gained control amid a broad relief rally across the Wall Street indices, as the US Treasury yields retreated after Fed Chair Jerome Powell showed no haste to reduce the balance sheet during his confirmation hearings. Despite a bit of a reprieve on Tuesday, AMC shareholders are losing 16% so far this year, as the stock price extends its five-month losing streak.
Update: AMC shares are down 1.58% ahead of Tuesday's close, trading at $22.42 per share, down, despite the better tone of Wall Street. Stocks recovered after a soft start to the week on the back of comments from US Federal Reserve chair Jerome Powell, who testified before Congress on the hearing for his next term as head of the US central bank. Powell was confident about economic Congress, but cautious on reducing the balance sheet, which somehow brought relief to financial markets.
Update: AMC shares extended its run of losses into the seventh straight day on Monday, losing another 0.96% to end the day at $22.77. AMC stock price fell as low as $21.25 during one point in Monday's trading but managed to stage a decent comeback amid a broad recovery on Wall Street indices. Surging Treasury yields on the Fed's tightening frenzy knocked down the meme stocks, with AMC roughly losing 17% so far, this 2022. Focus now shifts to the corporate earnings season in the US, Fed Chair Jerome Powell's testimony and the critical inflation report for any impact on Wall Street sentiment.
Update: AMC shares are ending Monday in the red, changing hands at $22.46 per share. Financial markets are in risk-off mode ahead of the release of US inflation, foreseen hitting 7% in December. US Treasury yields kept pushing higher, while Wall Street edged lower, with the NYSE down 125 points or 0.73%. The Dow Jones Industrial Average is the worst performer, down 328 points or 0.90%
---
Like this article? Help us with some feedback by answering this survey:
This article was originally published by Fxstreet.com.Read the original article here.