AMC stock rallied sharply early on Tuesday but gave up gains.
AMC Entertainment closed at $29.44, barely in the green.
The theatre stock had spiked to $34.33 before the afternoon sell-off.
Update: AMC stock lost ground on Wednesday to $25.68 in a steep sell-off which has seen the price correct to a 38.2% Fibonacci retracement level of the daily impulse and 14 March business and lows. The move comes after the prior day's volatility that saw the stock halted. This came after Monday's announcement that the cinema chain's CEO Adam Aron told Reuters investors should expect to see more "transformational" deals in the future.
"I'd like to think there will be more third-party external M&A announcements going forward where AMC can reach for the stars and intriguing investments that have potentially attractive returns," Aron said.
However, the stock markets are struggling in the face of the ongoing Ukraine crisis with no light at the end of the tunnel of the peace talks so far. The technical picture for the stock is bearish while in such an environment with mitigation of the bullish impulse in full flight. A 50% mean reversion opens risk towards the $23.60s for the day ahead that meets the start of the year's order block on the daily chart.
End of update
Update: AMC stock has lost 2.7% one hour into Wednesday's session in New York. At the time of writing it is trading at $28.64. This price level is much better, however than the open, which saw AMC Entertainment trade as low as $27.29 before rebounding about 15 minutes into trading and quickly winging it up to $29.23. After selling off once more below $29, it feels like this area from $27 to $29 will hold the majority of trades for the day. All three major indices are down at the moment. The S&P 500, Dow and Nasdaq have all shed 20 to 30 basis points at the moment. Oil advanced 3.4% after some news reports said fighting continued near Kyiv and Chernihiv in Ukraine despite rumours earlier in the week that Russia was regrouping in order to make room for direct talks between the leaders of the two nations.
AMC stock looks set to fall back a bit over the next few sessions if history is any guide. Tuesday was a signal day as early momentum continued from the last few weeks of power surges. The stock gains accelerated on Monday with a 45% gain after solid gains last week.
AMC Stock News: Time to sell, not to crow
AMC CEO Adam Aron has been crowing about the recent gains for AMC stock and its investment in Hycroft Mining (HYMC) stock. He took to Twitter on Tuesday by saying he was making crow soup for Wall Street analysts who had questioned the investment in a Nevada gold miner. To be fair, not many could have predicted that one. He also went on to point out that for the second day running AMC and HYMC were the top two stocks traded on the New York Stock Exchange and Nasdaq, respectively.
AMC's basis in 46.8 million shares and warrants of Hycroft is $1.07 each (+ $2.9 million). We took some mindless flack from Wall Street "pro's" two weeks ago. But right now, I am in the kitchen preparing for them some aromatic crow soup, crow stew and crow pie. #LetThemEatCrow pic.twitter.com/Dr7Ru1gCaS

— Adam Aron (@CEOAdam) March 30, 2022
However, as we outline below, the momentum looks to be stalling, so it may be time to book some profits after the recent surge.
AMC Stock Forecast
AMC stock looked to continue with its recent momentum and spiked as high as $34.33. This took us up to near the 200-day moving average and also to the key resistance at $34.60. This marks the low from late last year. AMC stock broke powerfully below this level in December 2021, and it marks a strong resistance with the 200-day moving average close by.
As is the case with all momentum plays, it must eventually stop, and it looks like this may be that time. After AMC apes pushed the stock to above $34 in a violent open to the regular session, this could not be maintained. It was a quick sharp spike before AMC settled down to trade a tight range by its standards for the remainder of the regular session. The point of control (price with the highest volume was at $29.82, which was exactly in line with our previously identified resistance. The majority of the volume printed around this $29.82 level as can be seen in the 15-minute chart. There is a huge battle at $29.82, which remains our short-term intraday pivot.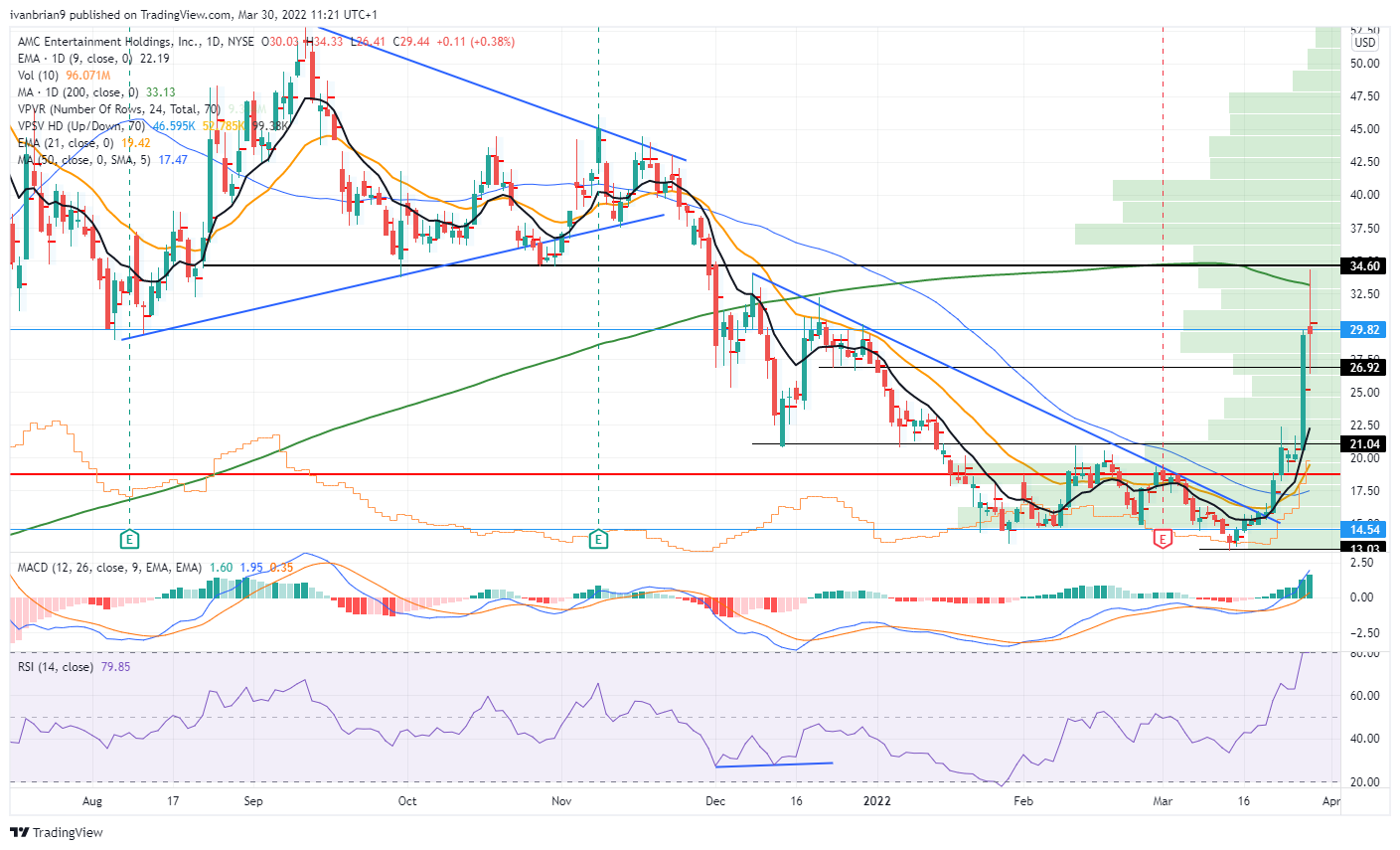 AMC stock chart, daily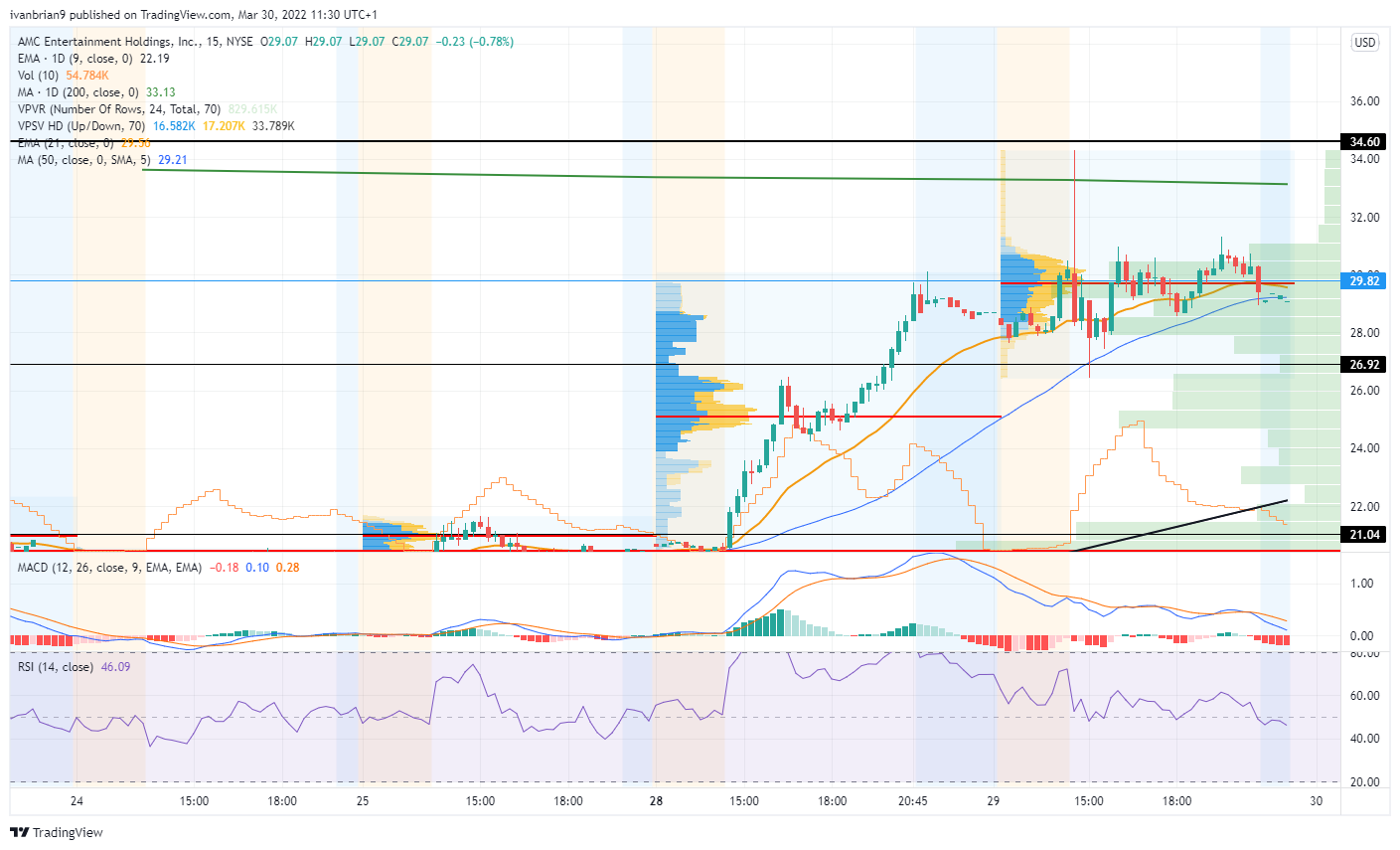 AMC stock chart, 15-minute
Previous Update: AMC stock has opened lower in Wednesday's regular session. AMC kicked off Wednesday at $28.62 which was a loss of just under 3%. But already it is heading for a test of $28 in the first few minutes. The low on Tuesday was at $26.42 so that is the first support intraday traders should look to. But as we mentioned in our peice this morning the momentum in meme stocks is clearly stalling as GameStop (GME) too is down on Wednesday. GME stock is currently down 1% at $178. This may be an opportune time to take some profits and let some of your position ride for a free bet essentially. For AMC a break of Tuesdays low at $26.42 will likely see a quick move lower to Mondays point of control at $25 due to a volume gap.
This article was originally published by Fxstreet.com.Read the original article here.