Higher-than-expected Australian inflation data increased the odds of a rate hike by the RBA.
Sentiment shifted mixed as Wall Street's fluctuated between gainers/losers.
AUD/USD Price Analysis: A daily close above 0.7100 will pave the way for further gains.
The Australian Dollar (AUD) rose to a fresh five-month high at 0.7122 against the US Dollar (USD) on Wednesday, following the release of Australian inflation data that cemented the case for further tightening by the Reserve Bank of Australia (RBA). Except for the Australian Dollar, risk aversion keeps high beta currencies pressured. Hence, the AUD/USD is trading at 0.7106 at the time of writing.
Australia's CPI data justifies another RBA hike
Wall Street shrugs off some of its earlier losses, though it's a mixed bag with the S&P 500 and Nasdaq posting gains, while the Nasdaq is fluctuating. An absent US economic docket left AUD/USD traders adrift to Australia's economic data.
Earlier in the Asian session, the Australian Bureau of Statistics revealed that the Consumer Price Index (CPI) surged 1.9% in Q4, above estimates of 1.6%, while the annual rates climbed to 7.8% from 7.3%, its highest level since 1990. Some analysts estimated that the RBA might pause its hiking cycle as global recessionary fears loom. Nevertheless, the CPI report increased the likelihood of a 25 bps rate hike by the RBA at the February 7 meeting, five days after the US Federal Reserve (Fed) monetary policy meeting.
Digging into the report, core trimmed CPI rose by 1.6%, above estimates of 1.4%, while YoY jumped by 6.9%, above the last month's 6.1%. Therefore, money market futures have begun to price in 50 bps of hikes, implying a peak of 3.60%, compared with 3.40% just before the CPI release.
Consequently, the AUD/USD extended its gains and prepared to test the August 11 daily high of 0.7136, which could soon be the major's eyes to close above 0.7100.
AUD/USD Technical Analysis
Technically speaking, the AUD/USD remains upward biased, and if it achieves a daily close above 0.7100, it will open the door for further upside. The case is cemented by oscillators confirming the uptrend. Though shy of overbought conditions, the Relative Strength Index (RSI) continues to aim higher. At the same time, the Rate of Change (RoC) witnessed a volatility jump in two consecutive days, suggesting buyers are moving in.
Therefore, the AUD/USD first resistance would be the August 2022 high of 0.7136. The break above will expose the 0.7150, ahead of the 0.7200 psychological level.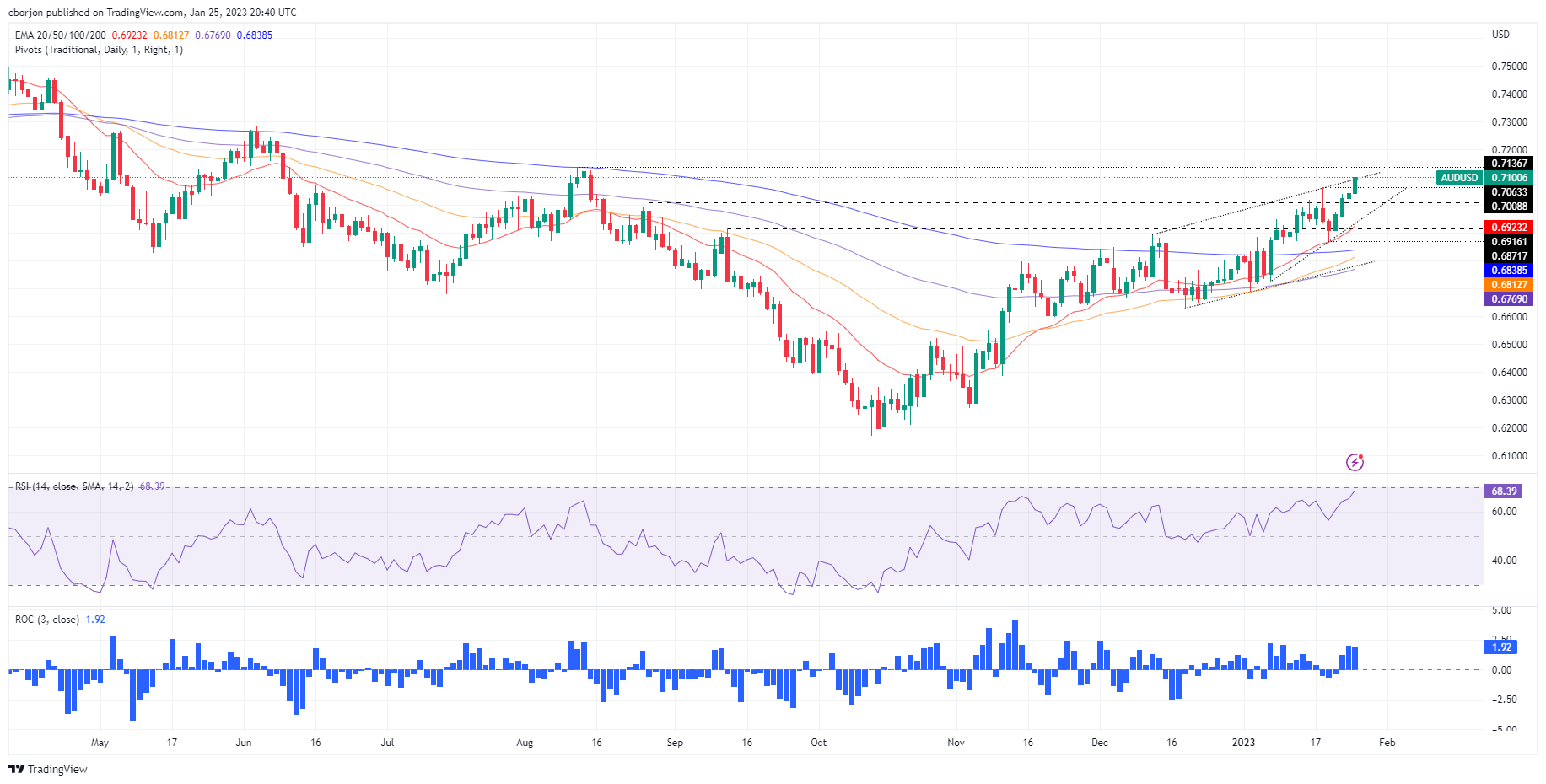 This article was originally published by Fxstreet.com.Read the original article here.