Share:
Baidu released Q4 earnings Wednesday morning.
BIDU stock rose more than 7% on earnings beat
Alibaba stock also jumped 1.3% on the news.
After a troubled early week, NASDAQ futures are up 0.3%.
Baidu (BIDU) stock surged more than 7% in Wednesday's premarket to $151.20 after China's search giant beat Wall Street's expecations for sales and profits and introduced a $5 billion buyback plan. Despite revenue coming in largely flat from the period a year ago, the figure beat consensus by $170 million.
Fellow Chinese megacap Alibaba (BABA) saw its ADRs rise 1.3% in tandem. NASDAQ futures have leapt ahead 0.3% after falling
Baidu stock news: Lots of cash on BIDU balance sheet
Baidu delivered fourth quarter adjusted earnings per share of $2.21, which was 16 cents or 8% ahead of analyst consensus. Management said that controlling costs helped to increase profits for shareholders and that the re-opening of China following the covid shutdowns of last year would initiate strong sales growth in 2023.
"2022 was a challenging year, but we used this period to prepare the company for better times. In 2023, we believe we have a clear path to reaccelerate our revenue growth, and we are now well positioned to make use of the opportunities that China's economic recovery offers us," said Robin Li, cofounder and CEO of Baidu.
Baidu's revenue in the fourth quarter came in at $4.8 billion, which was below the $5.24 billion seen in the fourth quarter of 2021 due to a stronger US Dollar. In terms of Chinese Yuan, Baidu's revenue was higher by less than 1%.
The company had an impressive $26.9 billion in cash and securities on its balance sheet at the end of 2022, so springing for a $5 billion share buyback scheme is unsurprising. What makes the large buyback policy look even less generous is that is lasts through the end of 2025.
Baidu's video streaming subsidiary iQIYI also had a decent quarter. According to the corporate earnings statement, "iQIYI's average daily number of total subscribing members for the quarter was 111.6 million, compared to 97 million for the fourth quarter of 2021 and 101 million for the third quarter of 2022."
Baidu did not mention its ErnieBot program, which was announced recently and will be released in March or soon thereafter. The AI bot is expected to complete with OpenAI's popular ChatGPT, a form of which Microsoft (MSFT) is incorporating into its Bing search engine. Alphabet (GOOG) is also working on an AI chatbot called Bard, with some saying this technology will eventually take over internet search.
Baidu stock forecast
Despite the surge in Baidu's stock price here, the daily chart below shows that BIDU is already near a resistance zone. The wide resistance zone between $154 and $161 has worked consistantly and stubbornly since March 2022, almost a year. Most likely BIDU stock will use its newfound popularity to retest the zone, but expect this one to repeat its past defeats. The Moving Average Convergence Divergence (MACD) indicator already predicts BIDU turning lower. If BIDU cannot close above $161 this week, expect the stock to rettest support at $125 from this January.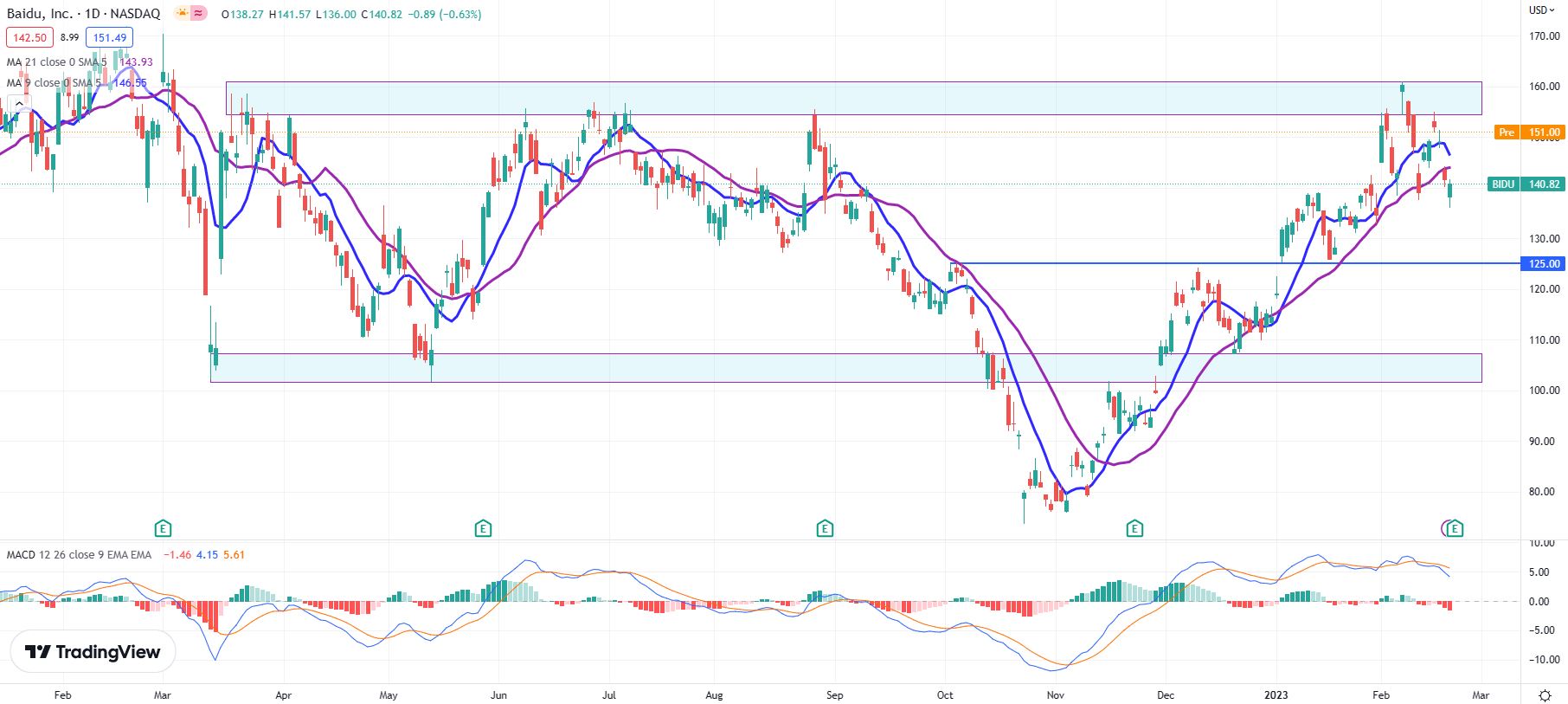 BIDU daily chart
This article was originally published by Fxstreet.com.Read the original article here.