The EUR/JPY record weekly losses of close to 4% as traders prepare for the weekend.
A dismal market mood spurred by escalations in the Russia-Ukraine conflict weighed on the EUR.
EUR/JPY Technical Outlook: Downward biased though due to the nature of Friday's plunge, might be subject of a mean reversion move.
EUR/JPY, deeply affected by a dismal market mood, is plunging 270-pips on Friday due to the Russian military seizure of the largest European nuclear plant in Zaporizhzhia, Ukraine. At 125.36, the EUR/JPY portrays the risk-off market mood and the prevalent weakness of the shared currency across the board.
As abovementioned, the market mood remains downbeat, triggered by increasing tension between Russia-Ukraine. Global equity indices record substantial losses, while in the FX space, the JPY is alongside the pack of gainers, while the EUR is the laggard, dropping 1.42% so far in the day. Versus the Japanese yen, the shared currency depreciated 3.85% in the week.
EUR/JPY Price Forecast: Technical outlook.
The EURJ/JPY is bullish biased, but it would be subject to a mean reversion move after Friday's270-pip fall. The daily moving averages (DMAs) are about to roll over, from a bullish order to a bearish one, which could be achieved in the near term.
In the event of a mean reversion move, the EUR/JPY first resistance would be the bottom-trendline of a descending channel, around 126.95. Breach of the latter would expose the 38.2% Fibonacci at 128.15 resistance level, that once broken, would open the door towards the 50% Fibonacci at 129.111.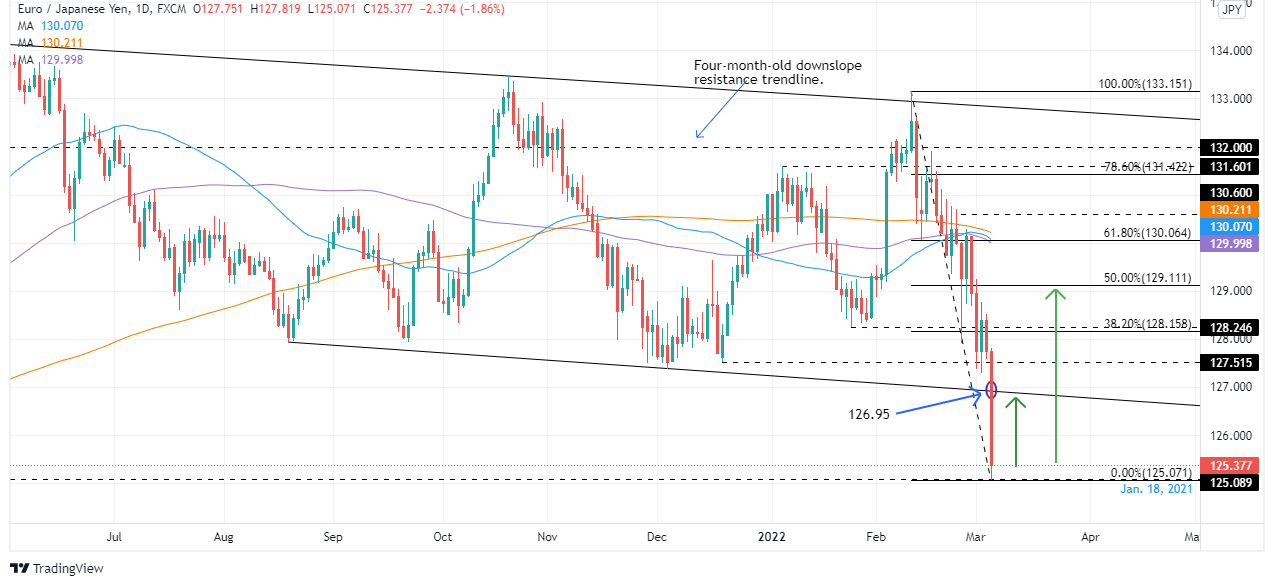 This article was originally published by Fxstreet.com.Read the original article here.