Gamestop continues its inevitable ride back to where it all began.
Retail buyers late to the party are suffering heavy losses.
Volumes slowly returning to more normal levels.
Update 2, Monday, February 8: Gamestop (GME) shares continued to move lower as Monday progressed. Shares in GME are down another 7% at $59. This despite the broader market setting yet another record high as investors pile into stocks. AMC, another Reddit meme stock also continues to struggle. AMC shares are down 12% on Monday. The game is over as retail traders, late to the prty, suffer heavy losses in Gamestop and other related stocks.
Update Monday, February 8: GameStop (NYSE: GME) gained another 8% in the post-market trading, finally settling Friday at $68.98. The meme stock, however, lost nearly 78% of its value on a weekly basis. The bulls were rescued towards Friday's closing after Robinhood Markets Inc. removed limits on all stock trades, including GameStop. The optimism over US President Joe Biden's $1.9 trillion stimulus package sent the Wall Street indices to record highs, which also helped stage a comeback in GME shares but the recovery remained capped below the $100 mark. Follow all stock updates
Update: GameStop (GME) has closed the first week of February at $63.77, after gaining 19.2% Friday, but ended the overall trend is to the downside. The late upswing seems to be the result of Robinhood's removal of trading limits and also an inflow of bargain-seekers. Broader markets have put the frenetic action behind them and rallied in hopes of new stimulus from President Joe Biden and Congress. The inverse correlation between "meme-stock" and the S&P 500 index has evaporated. Follow all stock updates
Update 2 Friday, February 5: GameStop shares continued their usual wild ride on Friday. Early in the session, GME shares topped out at $95 as news that Robinhood lifted all trading restrictions helped. GME shares surged from the open of $54 to trade as high as $95. Failure to break the psychological $100 level and renewed short interest brought GME crashing back down. GME is currently trading at $58 at the time of writing, up 9% for the day.
Update: GameStop (GME) has kicked off Friday's trading with an upswing of some 20% to the upside as Robinhood's removal of restrictions is prompting some bargain-seekers to jump on the stock, as seen in premarket trading. The Grapevine, Texas-based company is valued at under $4 billion, which makes it an interesting option for those seeking value beyond short squeezes. Hedge funds – some of whom also bought shares – could now be less active. It is essential to note that markets are calmer on Friday after a mixed jobs report, perhaps allowing for gradual increases.
Update: GameStop Corp. (NYSE: GME) has been exchanging hands at around $60 in Friday's pre-market trading, an increase of some 12% over Thursday's closing price of $53.50. The video gaming company's stock – which became the poster child of the "Reddit stocks – tumbled by 42% on Thursday, adding to previous losses earlier in the week. However, there may be positive news for those who have been holding on – Robinhood removed limitations to buying GME and AMC stocks, enabling fresh money to flow in. Moreover, financial regulators told Treasury Secretary Janet Yellen that the system is stable, shrugging off concerns that floated earlier. GameSpot may attract new buyers – but that depends on bargain-seekers seeing the fundamental value in its shares.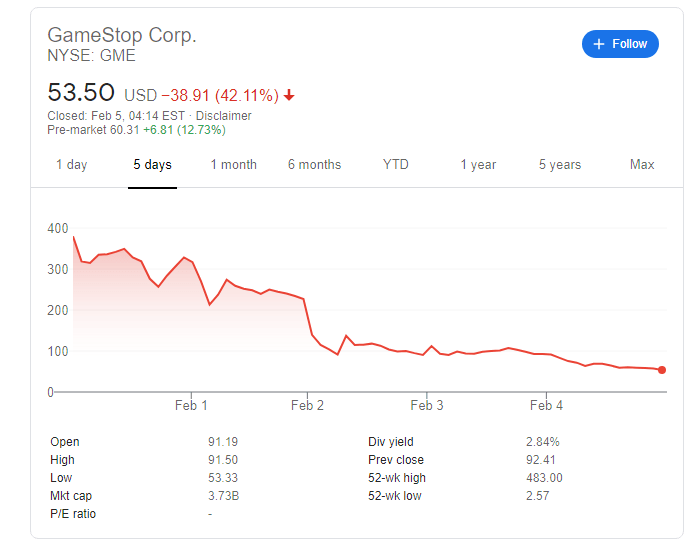 Update: After closing below $100 on Wednesday, GameStop (NYSE: GME) shares started the trading day relatively quiet on Thursday but came under heavy selling pressure as investors await headlines coming out of Treasury Secretary Janet Yellen's meeting with regulators. As of writing, GME shares were trading at $65, losing nearly 30% on a daily basis.
In an interview with ABC earlier in the day, Yellen said that she will discuss with regulators whether or not the recent market action driven by retail traders warrant further action. "We need to understand deeply what happened before we go to action but certainly we're looking carefully at these events," she added.
Meanwhile, broader markets are trading higher as markets remain optimistic about additional fiscal stimulus in the US. The S&P 500 Index is currently up 0.72% at 3,857, a touching distance away from the record high it set at $3,870 last week.
GameStop (NYSE: GME) is for a second consecutive day of moderate gains – an increase of roughly 3% to $96 after closing Monday's trade up by 2.68% at $92.41. While moves of several percentage points may seem like handsome profits for seasoned traders, they are far from what the videogame stock has been experiencing in recent weeks. One of the reasons for the increase, as described below, is Robinhood's relaxation of its limits related to GME. Will the online platform be able to cub trading for much longer? Treasury Secretay Janet Yellen is set to meet financial services regulators later on Thursday, and any potential unleashing of restrictions could trigger higher volatility.
In GameStop Corp. (NYSE: GME), the price action is now generally muted as all the buyers have cashed in and the market takes a breather.
However, that is not to say that there may not be a resurgence in the retail sector seeking to target funds that may well have taken the courage to short the stock once again on the bearish fundamentals that had seen the stock in steady decline since 2014 tops of $57 a share.
Social investing is here to stay
In a new and powerful commercial trend driven by Millennials and Gen Zers, the retail sector has proven that it can take on the 'big boys'.
The news will have spread to attract new amateurs into the space seeking to make an easy buck as those out of work seek alternative ways to make money from home. This may mean the next round of buyers could be even greater, for the fear of missing out, (FOMO).
However, whether Gamestop will be their best choice is yet to be known, and the social media space will perhaps be the giveaway on what will be targetted next.
Meanwhile, from a fundamental basis, GameStop Corp today announced that it has appointed Matt Francis to the newly-created role of Chief Technology Officer who will start on February 15, 2021. Most recently, he was an Engineering Leader at Amazon Web Services.
Additionally, two other executives have been hired:
Kelli Durkin, Senior Vice President of Customer Care – Ms. Durkin, who previously served as Chewy's Vice President of Customer Service, has a start date of March 1, 2021. She helped establish the world-class customer service operation that positioned Chewy to achieve a Net Promoter Score of 86 in 2018. In her new role, Ms. Durkin will oversee all customer service and engagement initiatives at GameStop.

Josh Krueger, Vice President of Fulfillment – Mr. Krueger, who previously held senior fulfillment roles at Amazon, Walmart, and QVC, has a start date of March 1, 2021. In his new role, Mr. Krueger will oversee the management of e-commerce fulfillment centers,
… the company wrote on its website on 3rd Feb.
At the time of writing, the stock is trading at $108 and is up some 20% on the day as the price attempt to recover from the lows of $85.25 following a dip from the highs of $113.40.
End of update.
GameStop Corp. (NYSE: GME), the poster child of the recent market craze, has been staging an impressive recovery with a jump above $100. Shares of the videogame company collapsed from the high of $483 last week – and close of $325 on Friday – to $90 at the end of Tuesday's session.
GME News: Three reasons to recover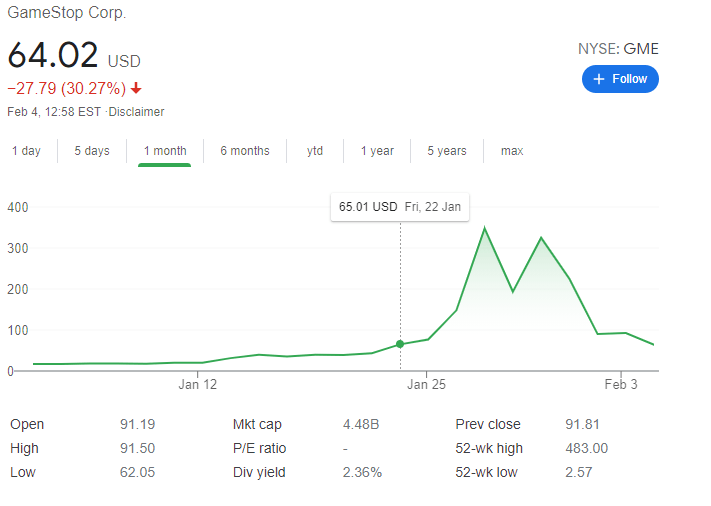 There are three reasons for the recovery. First, bargain-seekers have been jumping on GME, seeing genuine fundamental reasons to rise amid a revamped business plan for the firm. That was the initial reason to rise, before the Reddit frenzy.
Second, the trend toward short-squeezing silver – a market worth 200 times GameStop – has been splitting the community. After XAG/USD jumped above $30, it is back down.
Third, RobinHood relaxed its limitations related to buying and selling stocks. While the online trading platform – that had to raise funds in a firesale – still imposes restrictions, it is now easier for traders to buy new stocks.
This article was originally published by Fxstreet.com.Read the original article here.