GBP/JPY pulled back sharply on Friday amid a broader downturn in risk sentiment, but found good support in the mid-152.00s.
The pair may well struggle next week if risk appetite continues to worsen and it breaks key support.
GBP/JPY came under pressure on Friday, dropping back from Asia Pacific levels close to 154.50 to as low as 152.50 in the late European morning and in doing so dropped below its 50-day moving average at 153.47. The pair dropped back sharply as a result of a broad deterioration in risk appetite due to lockdown concerns in Europe that saw risk-sensitive currencies (like GBP) dumped in favour of safe-haven currencies (like JPY).
But the pair found decent support just above 152.50, given that this level also coincides with the prior monthly lows set last Thursday and Friday. Buying interest in the mid-152.00s was likely heightened given the proximity to the pair's 200DMA, which resides at 152.30. Ahead of Friday FX market close and as trading conditions die down, the pair has managed to recover back to the north of the 153.00 level to trade in the 153.20s, with the 50DMA for now acting as resistance. At current levels, the pair trades with losses of about 0.6% on the day.
If the European Covid-19/lockdown news continues to worsen over the weekend, there is every chance that the broader market's bid for havens may continue into next week. In this scenario, GBP/JPY could well be at risk of breaking below support in the mid-152.00s and its 200DMA. From a technical standpoint, this would be bearish, as there are no further key areas of resistance for the pair all the way down to the 149.00s.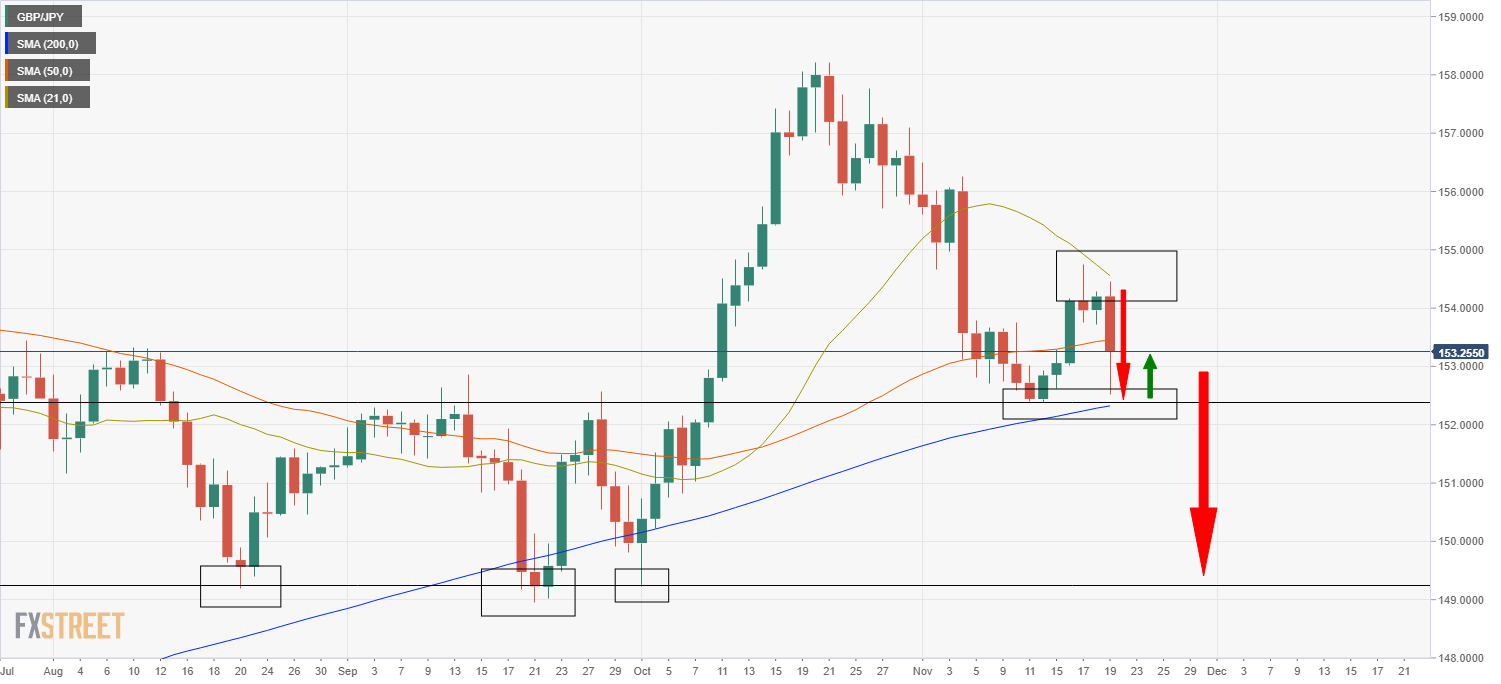 While GBP is vulnerable to a downturn in sentiment, domestic UK fundamentals, for now, do not seem to provide too much reason to be bearish GBP. It seems highly likely that in December, the BoE will become the first major central bank to start hiking interest rates post-Covid-19. On Friday, BoE Chief Economist Huw Pill said that the burden of proof was on those who wanted to wait to hike rates, not on those who wanted to get the hiking cycle started. Central bank policy divergence, thus, leans in favour of a higher GBP/JPY.
Meanwhile, the Covid-19 situation in the UK is nowhere near as dire as it is in mainland Europe. Infection rates in the UK have been broadly stable over the past few months and the country's booster vaccine rollout, which has already now more than covered the most vulnerable categories, has already been hailed a success. While lockdowns might be a story for the EU, they may not be for the UK this winter.
This article was originally published by Fxstreet.com.Read the original article here.