Share:
GBP/JPY trades into the middle as global eocnomy concerns sap bullish momentum.
UK data docket looking full for next week, markets forecasting further disappointment.
Challenges to broad-market risk appetite remains the key driver for the Guppy pair.
The GBP/JPY pair saw some back-and-forth action this week before entering the end zone almost exactly where it started, hung up just above the 184.00 level.
Guppy closes flat, sapped by bad data
Friday's trading saw a rebound from the 183.00 handle, but it wasn't enough to erase the week's downside from a mid-week peak of 185.78. The Pound Sterling (GBP) took a hit on growing concerns of a slowdown in the global economy, as well as a dovish Bank of England (BoE) that is strongly implying the end of rate hikes is near.
Despite the week's middling showing on declining economic data and rate concerns, the Guppy has managed to close bullish for seven of the last nine consecutive months, and from a technical standpoint is sitting comfortably at six-year highs.
On the flip side, many chart traders will be concerned about the end of a bullish cycle, especially as the Bank of Japan (BoJ) continues to work against the flow of a weakening Yen (JPY).
The upcoming trading week brings some hefty economic data for the Pound Sterling in the early half, with UK wage growth, unemployment, and industrial activity numbers into focus.
Economic calendar data for the UK is broadly anticipated to show mild declines across the board. Continued disappointment from economic indicators will see the GBP quickly lose its foothold on the charts.
GBP/JPY technical outlook
The Guppy is hamstrung in a four-week consolidation zone, which means a break to either side could be a definitive direction-setter. Resistance levels have collected into a zone from 186.60 to 185.75, while a hefty support region has coagulated below 183.60 down to 182.80.
An extended snap to the downside will see prices challenged at old bottom-end barriers from July, near the 180.00 major handle.
GBP/JPY 4-hour chart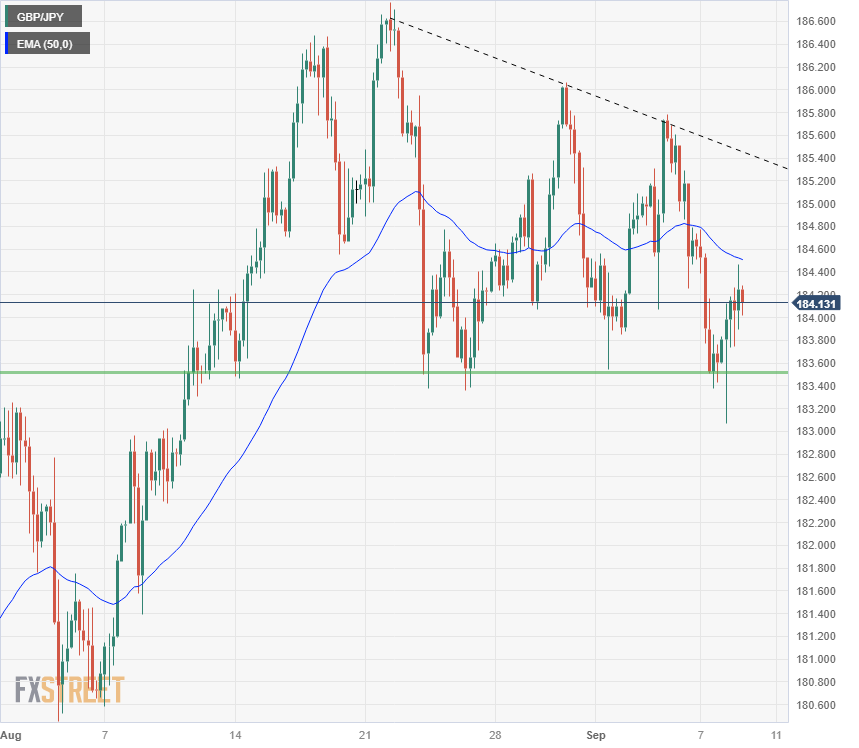 This article was originally published by Fxstreet.com.Read the original article here.