Share:
Gold price remains bearish despite improving market mood.
US Dollar stays dominant after US Gross Domestic Product growth disappointed on the second estimate for Q4 2022.
PCE disinflation should continue, but any surprise could have a notable impact on Gold.
Gold price continues to slowly trend down on Friday as the US Dollar strength remains on most of the market board despite 10-year US Treasury bond yields declining below 3.9% on Thursday, which still failed to trigger gains for the yield-less bright metal, although it helped to limit the downside somewhat. Positive weekly Jobless Claims data improved the market mood as the US labor market does not seem to be showing any signs of deteriorating. Gold price is trading at levels close to year-to-date lows around $1,820.
Market eyes turn now to the US Personal Consumption Expenditures (PCE) Price Index release, the Fed's preferred measure of inflation, scheduled for 13:30 GMT.
Gold news: US PCE disinflation to continue, but how fast?
The US Bureau of Economic Analysis (BEA) will publish the PCE Price Index, the Fed's preferred gauge of inflation, before Friday's Wall Street opening. Gold traders and investors will watch the data release closely, as Core PCE inflation is forecast to rise by 0.4% on a monthly basis, but the annual figure is expected to decline to 4.1% in January from 4.4% in December. The market reaction should be straightforward, with a softer-than-expected monthly PCE inflation weighing on the US Dollar and vice versa, with Gold price reacting the opposite way.
Considering that the CPI report already revealed that inflation remained sticky in January, it would be surprising to see this data have a long-lasting impact on markets.
Yohay Elam, Senior Analyst at FXStreet, believes that high PCE inflation expectations give room for some US Dollar retracement, which would help Gold price bulls:
Zooming out, the world's reserve currency has been dominant since the super-strong Nonfarm Payrolls report for January. Yet every trend has a counter-trend. Even if Core PCE comes out at 0.4% as expected, I believe it would trigger an "it could have been worse" outcome in markets.

It would probably take a surprising 0.5% read to reinforce the notion that inflation is out of control and needs even stricter tightening from the Fed.
Commerzbank bearish on Gold price as sentiment improves
Strategists at Commerzbank believe there is room for more downside on Gold price if US macroeconomic data keeps showing positive results:
The disappointment over the more restrictive Fed policy that we are likely to see after all has left its biggest mark on the Gold market. This is because US real interest rates have climbed again as a result. In this sense, a 'good' PMI in the US threatens to weigh on prices.
Gold price: The Federal Reserve impact
Gold price is no stranger to Federal Reserve monetary policy decisions. The US central bank has been on an interest rate-hiking quest since March 2022, raising the main policy rate from 0.25% to 4.75% in February 2023 to combat super-high inflation numbers. The US Dollar has been the greatest beneficiary of this move, as traders put a premium on the world's reserve currency when cash became more costly to obtain. This dynamic generates, in turn, a depreciation in assets valued in US Dollar terms like Gold.
Gold price peaked at an all-time high in March 2022, reaching $2,070.54 right before the Federal Reserve started to raise its interest rates. Since then, Gold bears have been in command and the yellow metal reached a two-year low at around $1,620 three times between September and November 2022, effectively setting a triple-bottom pattern. This coincided with the last of the three Fed 75 basis points rate hikes of the year, and from there, Gold price set a super strong support platform from where it started rallying again.
Gold price in 2023: Up-and-down action
Financial markets have been a two-tale story for the early part of 2023, in which Gold price has reflected in its price action like no other asset. XAU/USD rode an uptrend during all of January with the market optimism about inflation slowing down and constant Federal Reserve dovish talk, only to see a drastic turnaround back to the old dynamics in February after a hot US Nonfarm Payrolls (NFP) report. The US economy adding more than 500K jobs in the month of January shifted the market expectations for the Fed easing its monetary policy, and the US Dollar has come back to the market King throne.
Gold price opened the year at $1,823.76 and reached a year-to-date high of $1,960 on February 2, right in between the first Federal Reserve meeting of the year and the surprising release of the US jobs report for January. Since then, the ongoing downtrend has been relentless, reaching levels close to the yearly open, around $1,830.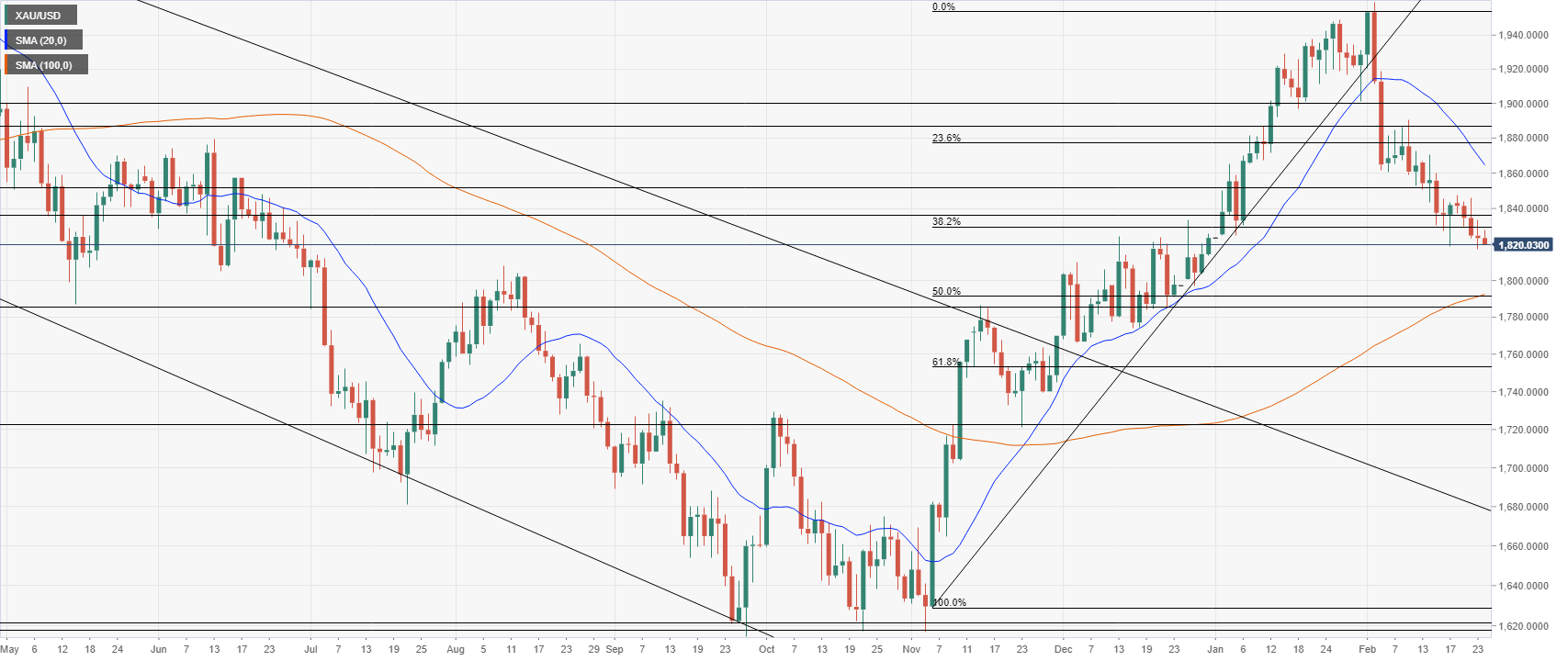 Gold price daily chart
This article was originally published by Fxstreet.com.Read the original article here.