Share:
Natural Gas is down this week and flirts with a break below $2.62.
The US Dollar is in choppy trading as headlines from Jackson Hole, BRICS hit markets.
Technical support at $2.53 is hanging by a thread.
Natural Gas price is facing some downside pressure as the strikes in Australia have been averted and the lingering heatwaves on mainland Europe top any demand for Natural Gas. The Gas price is breaking the lower end of a technical ascending trend channel on the daily chart which started in late April. Although there are some risk for a substantial uptick in Gas prices, receding risks of a shutdown in Australia's LNG terminals take away any upward pressures. Adding to that, the recent setback in US Purchasing Manager Index (PMI) numbers – which pointed to a contraction in activity – means less demand ahead from the US.
The US Dollar (USD), in the meantime, is facing one of its most volatile days of the year as plenty of headlines came out of the BRICS meeting. The objective of the meeting is to form a new trade block among non-G10 countries and look into dedollarization. Moreover, the Jackson Hole Symposium starts this Thursday, with Federal Reserve (Fed) Chairman Jerome Powell speaking on Friday. With Powell and other important central bankers ready to signal a message to the markets, a spike in volatility is a given.
At the time of writing, Natural Gas is trading at $2.622 per MMBtu.
Natural Gas news and market movers
The weekly Natural Gas Storage numbers from the Energy Information Agency (EIA) are due to come out at 14:30 GMT. A small decline is expected, from 35B to 33B.
Israel approved increasing natural gas exports to Egypt.
European gas storage levels keep increasing and are at 91.62%, firmly ahead of target.
European gas futures sink 10% on the back of the Australian workers' possible signing of a wage agreement.
Australian LNG workers are opening up in favor of the Chevron revamped offer of higher wages and benefits after unions voted in favor of the new offer on the table.
Tropical Depression Franklin did not cause any structural damage to the Texas bay area and gas production and supply will be quickly back up and running to normal levels.
The annual Jackson Hole Symposium will be the focal point for the week. In the event, the US Federal Reserve tends to signal a change in its monetary policy going forward.
Natural Gas Technical Analysis: support snaps
Natural Gas is dropping like a stone after briefly hitting $2.80 on the topside earlier this week. From a pure technical point of view, the ascending trend channel is breaking and a daily close outside it would tilt the final outcome in a few weeks in favor of the bears. Once the lower trend line gives way, the risk of a sharp decline could be in hand. With Europe far ahead of its gas storage target and no real bottlenecks reported, the slowdown in economic activity across the globe could cause gas prices to fall toward $2.40.
On the upside, $3 is still the level to watch once Natural Gas prices can reclaim $2.8. Should prices recover, look for a close above $2.935, the high of August 15, in order to confirm that demand is picking up again. More upside toward $3 and $3.065 (high of August 9) would be targets or levels to watch.
On the downside, the trend channel is doing its work as the 55-day Simple Moving Average (SMA) at $2.67 has been firmly broken. In case more downside pressure builds, look for $2.54, which aligns with the 100-day SMA and is the last line of defence for Natural Gas prices to tumble.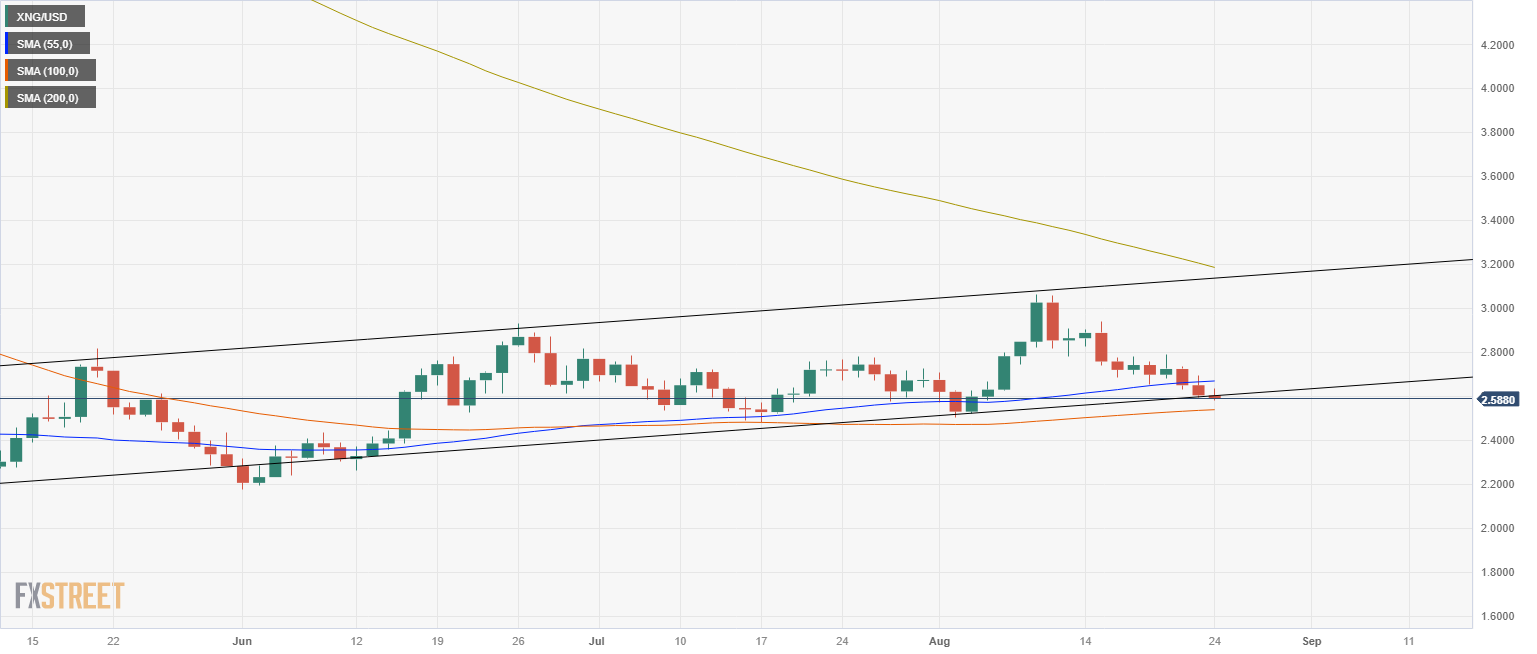 XNG/USD (Daily Chart)
Natural Gas FAQs
Supply and demand dynamics are a key factor influencing Natural Gas prices, and are themselves influenced by global economic growth, industrial activity, population growth, production levels, and inventories. The weather impacts Natural Gas prices because more Gas is used during cold winters and hot summers for heating and cooling. Competition from other energy sources impacts prices as consumers may switch to cheaper sources. Geopolitical events are factors as exemplified by the war in Ukraine. Government policies relating to extraction, transportation, and environmental issues also impact prices.
The main economic release influencing Natural Gas prices is the weekly inventory bulletin from the Energy Information Administration (EIA), a US government agency that produces US gas market data. The EIA Gas bulletin usually comes out on Thursday at 14:30 GMT, a day after the EIA publishes its weekly Oil bulletin. Economic data from large consumers of Natural Gas can impact supply and demand, the largest of which include China, Germany and Japan. Natural Gas is primarily priced and traded in US Dollars, thus economic releases impacting the US Dollar are also factors.
The US Dollar is the world's reserve currency and most commodities, including Natural Gas are priced and traded on international markets in US Dollars. As such, the value of the US Dollar is a factor in the price of Natural Gas, because if the Dollar strengthens it means less Dollars are required to buy the same volume of Gas (the price falls), and vice versa if USD strengthens.
This article was originally published by Fxstreet.com.Read the original article here.