Share:
Natural Gas rallies in Europe over 10%, while US gas prices negative.
The US Dollar takes it on the chin as the Chinese Yuan appreciates firmly against the Greenback.
US Natural gas prices might see spillover from European gas futures and rally higher.
Natural Gas prices are taking off in Europe after workers in Australia have started their partial strikes on Friday. The volatility is peaking on the European gas market with European gas futures up over 10% at one point in European trading hours. Prices are set to rally further as from Thursday a full walkout could take place if no accord is being formed.
Meanwhile the US Dollar is tanking in a blood red trading day this Monday. The Greenback is losing big time against the Yuan, Yen and Australian Dollar, each time down near 1%. This makes the DXY slide substantially lower.
At the time of writing, Natural Gas is trading at $2.80per MMBtu.
Natural Gas news and market movers
The Appalachia bassin production for local US natural gas deliveries, is expected to fall near 2.5% in production. All terminals across the US are reporting a decrease in exports as well for LNG this week.
A big divergence in gas prices from a geographic point of view has emerged with European gas futures rallying nearly 10% to $93.29. It is a fresh monthly high for the month of September.
Meanwhile, US gas futures were unfazed by the sudden spike in prices on the other side of the Atlantic Ocean. Though traders might see some catch up later this Monday once the US markets opens.
On Friday, the Baker Hughes Rig Count printed a steady number, residing near an 18-month low. US gas prices might spiral higher as well if the US gas production starts to fall short of demand.
Several weather projections are pointing to a harsh winter to come for both the US and Europe.
Norwegian gas supply outages are yet again extended with the biggest one, the Troll gas field, extended until September 14th.
European gas storage is expected to survive the winter and end the season with 44% supply left. Currently, European storage is filled to 93% capacity.
Natural Gas Technical Analysis: Europe still exposed to Russia
Natural Gas prices in the US are starting to fall in a consolidation pattern where buyers and sellers are being pushed toward each other, ignoring supply risk out of Australia. Several technical elements such as the 200-day Simple Moving Average (SMA), the ascending trendline and the 55-day SMA are moving toward each other. Once both buyers and sellers have reached their consolidation point, a breakout is due. In this case, it could mean Natural Gas prices rally higher with the Australian strikes creating a shortage of supply.
On the upside, $2.83 needs to be taken out in order for this bounce to gain momentum. Once this rebound materialises, look for the the 200-day Simple Moving Average (SMA) near $2.93. In case price starts to break above there and head higher, $3 will be crucial with the high of September at stake.
On the downside, the trend channel has done a massive job underpinning the price action. The 55-day SMA near $2.72 already provided support ahead of any test on the lower end of the trend channel. In case the 55-day SMA breaks, look for support near $2.66.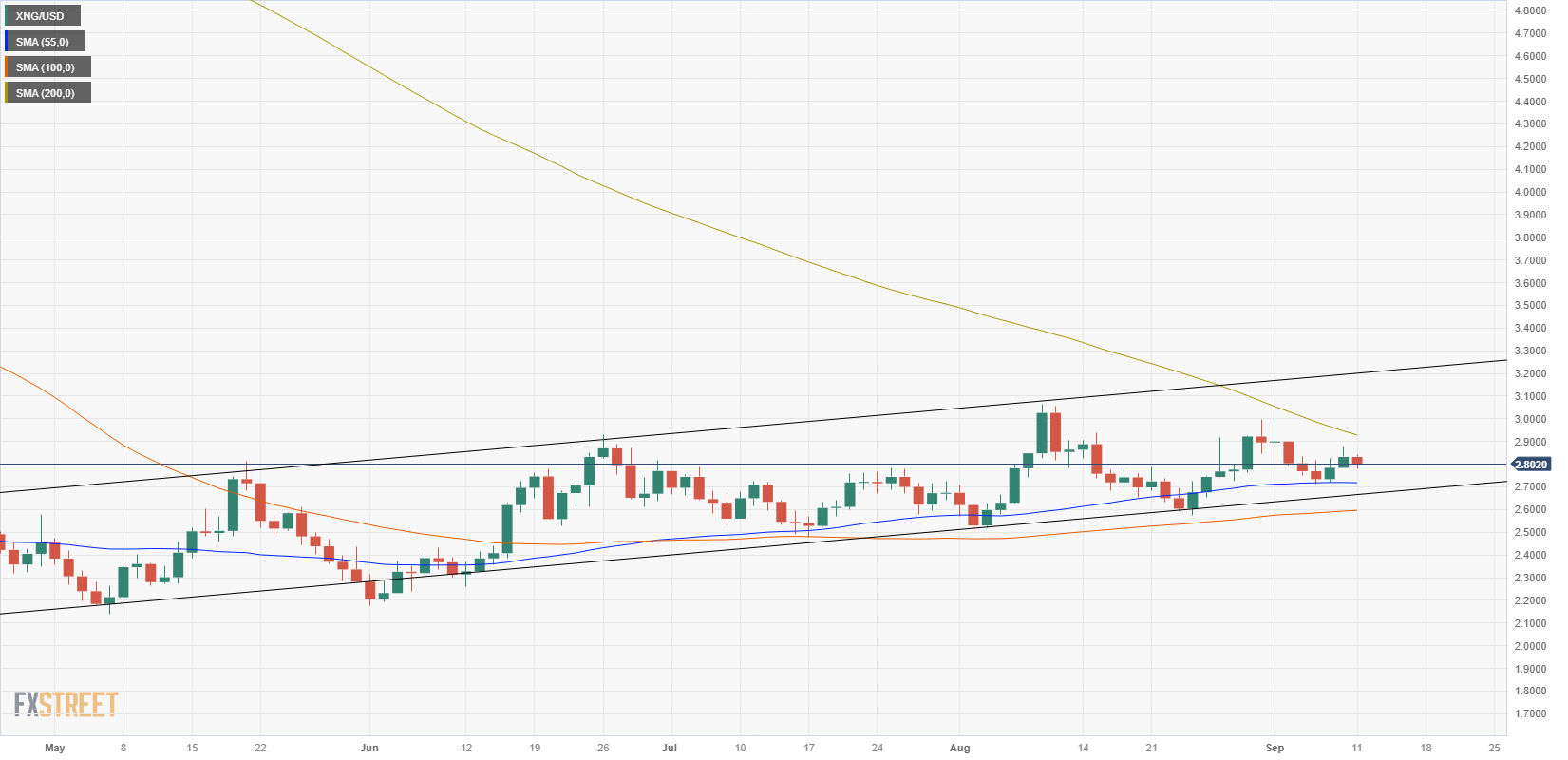 XNG/USD (Daily Chart)
Natural Gas FAQs
Supply and demand dynamics are a key factor influencing Natural Gas prices, and are themselves influenced by global economic growth, industrial activity, population growth, production levels, and inventories. The weather impacts Natural Gas prices because more Gas is used during cold winters and hot summers for heating and cooling. Competition from other energy sources impacts prices as consumers may switch to cheaper sources. Geopolitical events are factors as exemplified by the war in Ukraine. Government policies relating to extraction, transportation, and environmental issues also impact prices.
The main economic release influencing Natural Gas prices is the weekly inventory bulletin from the Energy Information Administration (EIA), a US government agency that produces US gas market data. The EIA Gas bulletin usually comes out on Thursday at 14:30 GMT, a day after the EIA publishes its weekly Oil bulletin. Economic data from large consumers of Natural Gas can impact supply and demand, the largest of which include China, Germany and Japan. Natural Gas is primarily priced and traded in US Dollars, thus economic releases impacting the US Dollar are also factors.
The US Dollar is the world's reserve currency and most commodities, including Natural Gas are priced and traded on international markets in US Dollars. As such, the value of the US Dollar is a factor in the price of Natural Gas, because if the Dollar strengthens it means less Dollars are required to buy the same volume of Gas (the price falls), and vice versa if USD strengthens.
This article was originally published by Fxstreet.com.Read the original article here.