Share:
Natural Gas price jumps in the US and Europe.
The US Dollar is set to weaken after its relentless peak last week.
Uptrend still intact as price heads to $3.25.
Natural Gas is storming out of the gate this Monday after headlines emerge from Australia that talks are breaking down between Chevron and personal. The unions though came out in favor of the revamped offer from Chevron and held votes that would be rounded up this Monday. Unfotunately Chevron has received notice of strikes and protected industrial actoin by September 7th at the Gorgon, Wheatstone.
The US Dollar (USD), in the meantime, is facing some selling pressure after it peaked several times last week. The US Federal Reserve Chairman Jerome Powell reiterated that rates need to remain elevated for longer, which dampened the hope that was living in the markets for rate cuts in early 2024. These hopes are now placed toward the end of the second quarter. For this week, traders will be on edge with the US jobs report on Friday.
At the time of writing, Natural Gas is trading at $2.90 per MMBtu.
Natural Gas news and market movers
Additional headlines on issues for the European gas supply as a German LNG terminal will faces substantial delays in becoming operational.
India's Gujarat State Petroleum Corporation is seeking to buy one cargo for late September delivery, according to inside traders. The tender is due to expire on August 28.
European gas storage is at 92%, while France is lagging a touch with 88%.
Norway has shut down its Troll gas field for maintenance, in another setback for European gas supply.
Australian LNG workers are firing up local and independent strikes as unions are normally rounding up the voting on Monday for the improved Chevron wage proposal. Chevron meanwhile has received notice that employees at Gorgon and Wheatstone will be striking as of September 7th. The Australian gas supply accounts for 10% of the global supply.
Tropical storm Idalia is to turn into a hurricane in the coming hours near Cuba and is set to hit Florida by Tuesday. Bigger parts of Alabama and Georgia are bound to be hit as well once it hits landfall.
This week, all eyes on the market moving US jobs report on Friday.
Natural Gas Technical Analysis: perfect storm
Natural Gas is a textbook example of how technical analysis together with macro and fundamentals is a cocktail that works. Last week any news was in disfavor of the commodity, though support held and the ascending longer term trend channel is still very much intact. Seeing the current cocktail of supply drought, Natural Gas prices could jump to $3.25 if the current sentiment and the news flow keeps contributing to higher prices.
On the upside, $3 is still the level to watch once Natural Gas prices can reclaim $2.9. Should prices recover, look for a close above $2.935, the high of August 15, in order to confirm that demand is picking up again. More upside toward $3 and $3.065 (high of August 9) would be targets or levels to watch.
On the downside, the trend channel has done a massive job underpinning the price action. Aside for one small false break, ample support was provided near $2.60. The 55-day Simple Moving Average needs to give that much needed support at $2.69 ahead of the ascending trend channel at $2.61. Any falling knives can still be caught by the 100-day SMA near $2.55.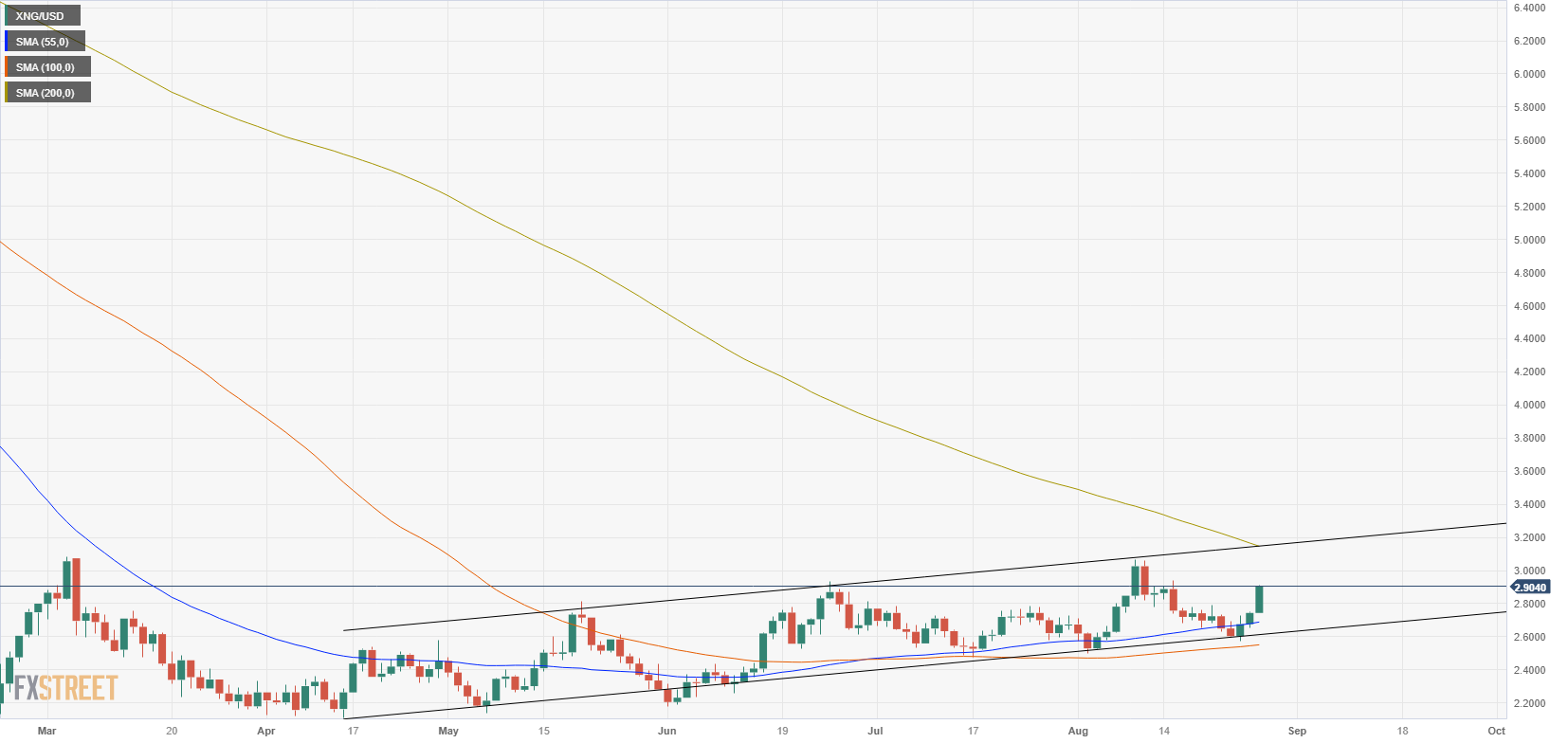 XNG/USD (Daily Chart)
This article was originally published by Fxstreet.com.Read the original article here.