Share:
Nio loses 8.1% at Tuesday open
Q2 results showed revenue dropping 15% YoY.
Q2 adjusted EPADS missed estimated by $0.04.
Vehicle margin improved from Q1 but was cut in half from a year ago.
Q3 delivery outlook calls for 55K to 57K, more than double the year before.
Nio (NIO) stock has been recovering from a major gap down on Tuesday's open. Due to poor second-quarter results released early Tuesday, Nio fell as low as $9.46 after the open but has recovered up to $10.05 or -8.1% about 45 minutes into the session.
Nio, the Chinese EV automaker, reported Q2 earnings and revenue that missed analyst expectations for the second quarter. Nio reported adjusted earnings per average diluted share (EPADS) of $-0.45 on revenue of $1.21 billion. Wall Street analysts' consensus had been EPADS of $-0.41 on revenue of $1.27 billion.
Nio missed revenue and GAAP earnings consensus in the first quarter as well. During that quarter, reported in June, Nio's revenue of $1.55 billion had missed expectations by about $80 million.
Nio stock earnings news: Q2 was dismal, but Q3 outlook improves drastically
Revenue fell 15% YoY as vehicle deliveries, vehicle sales and margin all slipped. Deliveries in the quarter dropped 6% YoY to 23,520. Vehicle sales plunged 25% to $991 million. Vehicle margin declined from 16.7% one year ago to 6.7%, although that figure was better than Q1's 5.1%.
Part of this slide in margin can be attributed to customers opting for less pricey sedans rather than SUVs. Deliveries of SUVs fell 23% YoY, while sedan deliveries grew nearly 14%. Vehicle margin dropped drastically during Q4 of last year when SUV sales began dropping off precipitously.
SUV deliveries were reported at 13,595 in Q2 2022 but just 10,492 in the current second quarter. Sedan deliveries rose from 11,464 in the quarter last year to 13,028 this year.
NIO SUV/Sedan deliveries by quarter
An important caveat here is that Nio's second quarter ended on June 30, and the following month of July saw deliveries of 20,462 that nearly overtook the entirety of the second quarter. While Q2 was a bust, the third quarter looks quite promising. Management is guiding for deliveries between 55,000 and 57,000 in Q3, which is an increase of about 150% from the second quarter.
July's large-scale increase in deliveries has "propelled Nio to the top position in China's premium electric vehicle market for vehicles priced above RMB300,000," said CEO and Chairman William Bin Li.
Based on disclosures in the press release, the government of Abu Dhabi – one of the seven members of the United Arab Emirates or UAE – now owns about 7% of Nio. During the second quarter, Abu Dhabi purchased an approximately $739 million stake directly from Nio and about $350 million in common stock from a subsidiary of Tencent (TCEHY).
EV stocks FAQs
Electric vehicles or EVs are automobiles that use rechargable batteries and electric motors to accelerate rather than internal combustion engines (ICEs). They have been around for more that 100 years, but battery technology research & development was meager for much of the 20th century. Lithium-ion battery technology became advanced enough to produce EVs at scale in the late 1990s and 2000s, and sales have been steadily increasing since then Tesla's Roadster was unveiled in 2008. EVs are viewed as a means of reducing carbon emissions since battery electric vehicles (BEVs) themselves produce zero emissions. Other vehicles called plug-in hybrid electric vehicles (PHEVs) utilize both battery electric power and ICEs as a backup.
EVs are growing from a small base, but they rose from 9% of global new auto sales in 2021 to 14% of the total in 2022. This was a 65% YoY growth rate, and the industry delivered 10.2 million EVs worldwide in 2022. Projections show this number climbing above 16 million in 2023. Across the world, market shares differ greatly among nations. Nearly 88% of Norwegian new car sales in 2022 were EVs. On the other hand, the United States, where much of the modern innovation in EVs was forged, had less than 8% of new vehicle sales go to EVs in 2022. The largest EV market in the world, China, saw 30% of the market go to EVs that year.
We know you're thinking Elon Musk, but he's probably more like the father of the mass-market, contemporary EV. All the way back in 1827, a Hungarian priest named Anyos Jedlik invented the electric motor and used it the following year to power a vehicle of sorts. French scientist Gaston Planté invented the lead-acid battery in 1859, and German engineer Andreas Flocken built the first true electric car for the public in 1888. EVs made up about 38% of all vehicles sold in the US around 1900. They began losing market share rapidly after 1910 when gasoline-powered vehicles grew much more affordable. They largely died off until new research programs in the 1990s led to gradual private sector investment in the 2000s.
China's BYD is by far the largest manufacturer of EVs in the world. In 2022 it sold 1.8 million EVs and in the second half of the year made up 20% of the global market. The asterisk given to BYD is that the vast majority of these vehicles are hybrids. Tesla's 12% market share is often treated as more significant than BYD, because it only sells BEVs and is the most famous EV brand in the world. Volkswagen, BMW and Wuling then round out the top five. As a new sector with heavy investment though, many startups have flooded the market. These include China's Nio, Li Auto and Xpeng; a Swedish-Chinese manufacturer called Polestar; and Lucid and Rivian from the US.
Nio stock forecast
Nio's share price has been beset by a dismal second quarter, but opportunistic traders will hope to enter here in order to benefit from third-quarter results. August deliveries, for instance, will likely be reported on either Friday or Monday.
NIO stock has descended back from its early August high just above $16 per share to a former supply/resistance zone ranging from $10.15 to $11.30. This would be a good spot to enter since the projected healthy delivery report for August should see NIO burst up to the $13 to $14 resistance range in short order. A break of $10.15, however, will produce more selling that sends the Nio stock price down to earlier resistance-turned-support at $9.50.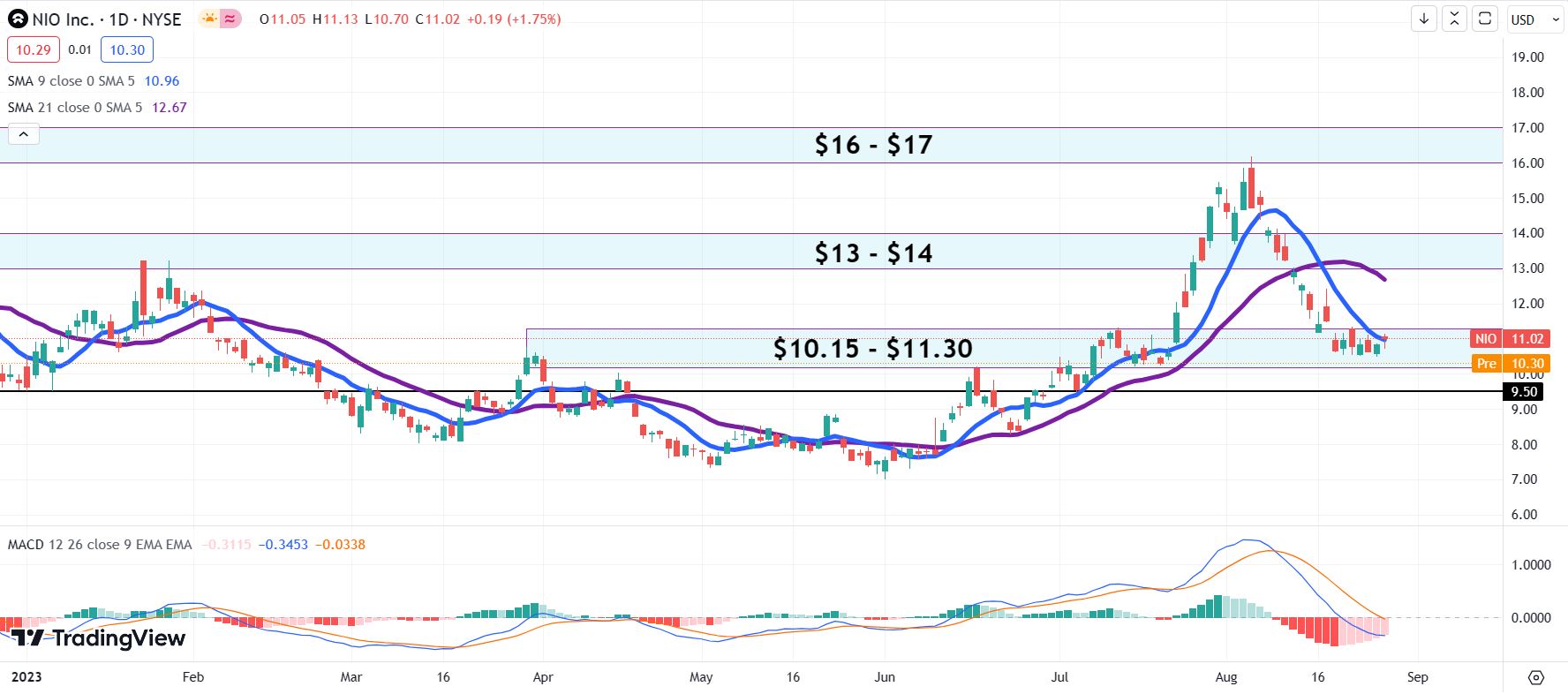 NIO daily chart
This article was originally published by Fxstreet.com.Read the original article here.