NYSE:NIO is quickly approaching its 52-week low of $19.31.
Nio is rumored to be unveiling the new ES7 SUV in April.
Nio has also been linked to designing and manufacturing its own smartphone.
Update: NIO holds a handful of cents above $20 per share heading into Wednesday close, shedding over 5% for a second consecutive day. Wall Street started the day with the three major indexes posting gains, as the day started with optimism. However, the market's sentiment quickly soured amid escalating tensions on the Ukrainian/Russian border. US intelligence suggested that Russia will likely invade Ukraine within the next 48 hours. Also, multiple Ukrainian government websites went offline after a DDoS attack blamed on Russia, while the local government declared the state of emergency. Among US indexes, the Nasdaq Composite is the worst performer, down 2.23%, while the DJIA shed 1.27% or 428 points.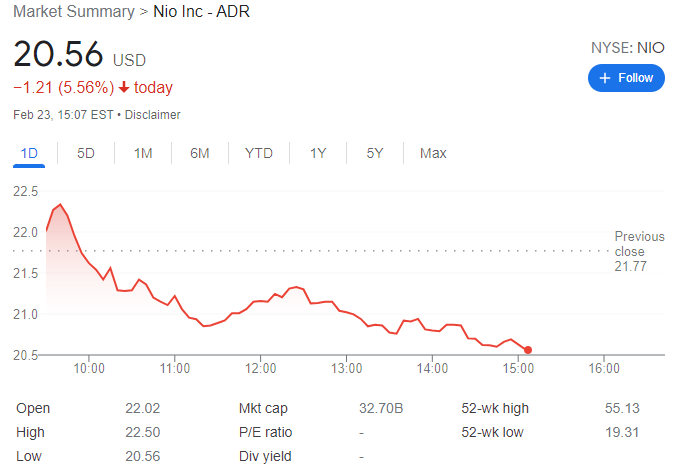 Previous update: NIO stock tumbled to fresh monthly lows of $21.32 on Tuesday before rebounding to $21.77 at the close. Despite the quick pullback, NIO stock price lost 6.20% on the day, mainly weighed down by the escalating tensions between the West and Russia over Eastern Ukraine. The risk-off sentiment remained the maim market theme, as most of the G7 economies-imposed sanctions on Russia after it recognized two self-proclaimed separatist republics in eastern Ukraine.
NYSE:NIO has been a favorite stock of EV retail traders since the company rose from a penny stock status to being one of the global leaders in the sector. But so far in 2022, shares of Nio have fallen a further 30% after what was a disappointing year in 2021 as well. Many believed Nio would bounce back this year, and Wall Street analysts remain bullish, but Nio has struggled mightily during the growth correction that has been triggered by the impending environment of rising interest rates. Nio has been outperformed by its two closest rivals XPeng (NYSE:XPEV) and Li Auto (NASDAQ:LI), both of which have also reported higher monthly delivery numbers in China.
---
Stay up to speed with hot stocks' news!
---
Nio is banking on the release of three new vehicle models in 2022 to turn its fortunes around. The company is rumored to be unveiling the first of these in April at the CSSC Pavilion in Shanghai. If the model does not debut then, it is possible Nio will be holding out for the Beijing International Automotive Exhibition that is taking place one week later. Nio is also set to launch both the ET5 and ET7 sedan models at some point later this year.
NIO stock price

In an interesting report, Nio has also been linked to being in the early stages of designing its own smartphone. This will not be a phone manufactured by another company with Nio's logo slapped on, as it appears that Nio is doing everything in-house. The rumor came from a Weibo post by a noted EV blogger. It is likely the phone will have some major integration with Nio's vehicles as a major selling point to Nio drivers.
Previous updates
Update: NIO stock is down roughly 6% on Tuesday, trading at $21.83 per share. US indexes trade in the red, although off intraday lows. A brief announcement from US President Joe Biden cooled equities' sell-off, as speculative interest was waiting for the announcement of tough sanctions on Russia. However, Biden said: "We have no intention of fighting Russia," adding that US forces in Europe will help Baltic allies, but "these are totally defensive moves on our part." He also said the US and allies "will defend every inch of NATO territory and abide by the commitments we made to NATO."
Update: NIO shares dropped 3% at the start of Tuesday's session in unison with many other Chinese stocks. The stock is now trading near $22.50. Several separate ongoing stories are simultaneously signaling that China's crackdown on tech is not over. The government has asked state-run corporations what their relationship is with Ant Group, a fintech partially owned by Alibaba. Meituan has been ordered to reduce the fees it charges restaurants. Another rumour says that Tencent is now facing heavy regulation.
---
Like this article? Help us with some feedback by answering this survey:
This article was originally published by Fxstreet.com.Read the original article here.