RIVN shares fall another 15% on Thursday.
Rivian stock had already fallen 15% on Wednesday.
Momentum is slowing and premarket shows more losses are possible.
Rivian (RIVN) goes for an unwanted three in a row on Friday, that of three down days in a row. While earlier in the week a seller did not seem to be in sight, now the momentum has stopped and volatility is sharp and sore. Rivian price is now quoting at $123.05 in the premarket, having closed down 15% at $123.38 on Thursday. This one has been all about momentum rather than valuation, and when the music stops it is time to get off the rollercoaster.
While we have been saying exactly this for most of this week, we do not have the same platform that Jim Cramer on CNBC has. It perhaps took him to point out what many had been thinking. "Remember, you're playing momentum, not car companies and not technology, and in that case it's better to ring the register early and often." This is not investing, it is trading or speculation, so strong risk management is needed. When the tide turns in these momentum names, it can turn sharply. Rivian is now down over 30% from its high earlier this week above $179.
Rivian (RIVN) stock news
There is nothing to report here in terms of fundamental news or a change in Rivian's model. What is interesting to note is how sentiment is falling on social media along with the share price. Traders are moving on to the next thing, and other smaller EV stocks such as Canoo (GOEV) and Sono Group (SEV) have seen huge price surges. Momentum is key here.
Rivian (RIVN) stock forecast
Our call from yesterday worked out as planned: "Below $140 there is a vacuum until $130, so watch out for a move through $140 to accelerate." Going from $140 to $128 took about 20 minutes – pretty quick. Rivian shares then began to stabilize around $125 as the volume profile was high down here with large volume profile bars as we can see on the chart below. This is also a reasonably strong support zone as the point of control since IPO is at $128.59. The point of control is the price with the highest amount of volume.
$123.05 is support (yesterday's point of control) and then on to $112, which is the point of control from last Thursday. Obviously, $100 is a psychological round number support if $112 breaks. As we can see the chart is giving us some levels, but momentum is probably the most important factor here. It has stopped, so take extra caution.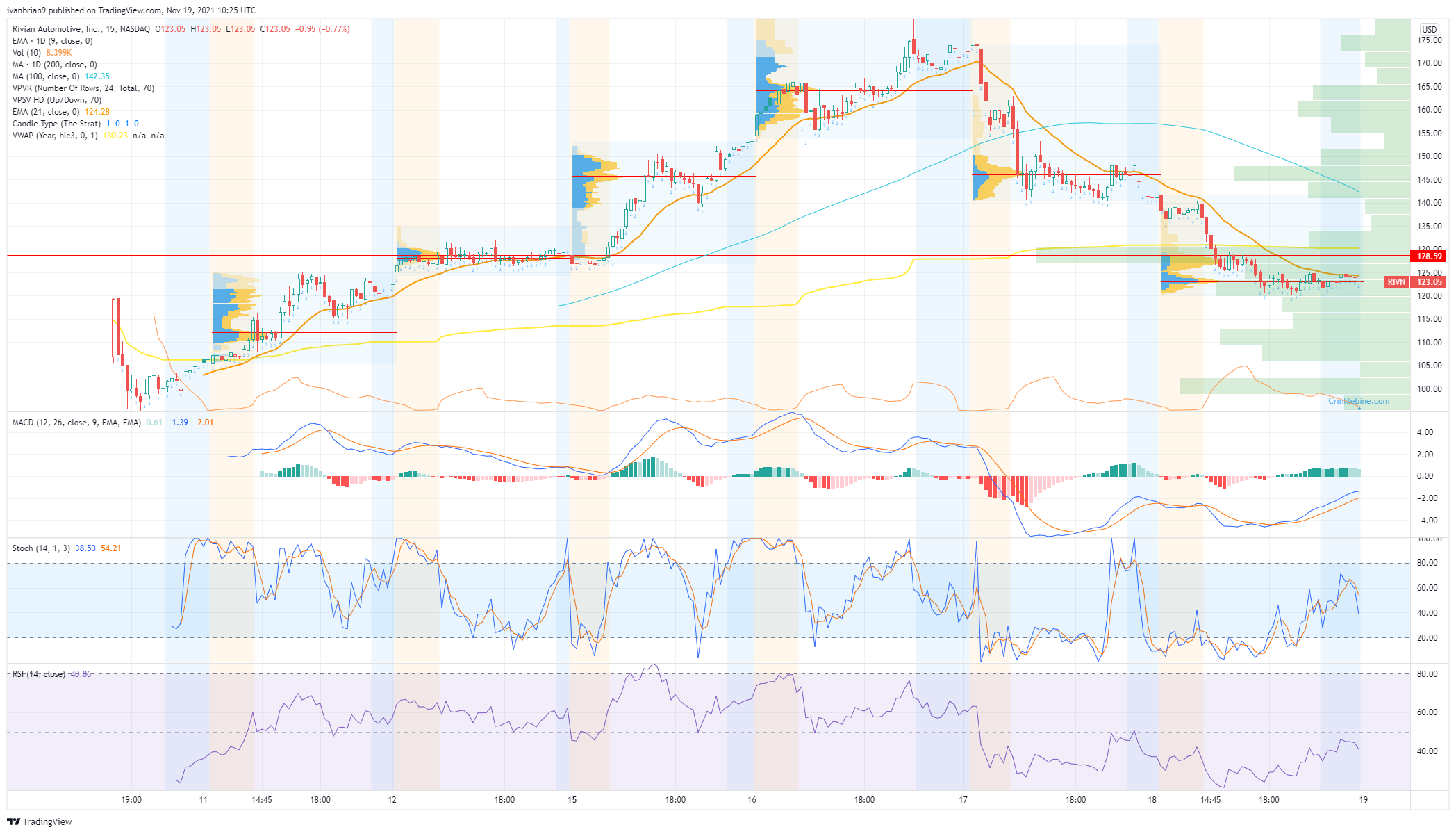 RIVN 15-minute chart
This article was originally published by Fxstreet.com.Read the original article here.