TSLA stock drops in Wednesday premarket.
Tesla will unveil Q4 earnings and revenue after Wednesday close.
Analysts are looking for 2023 delivery guidance near 1.8 million units.
Elon Musk testified about $420 tweet on Monday.
A lot could go wrong with Tesla's (TSLA) fourth quarter earnings call after the markets close on Wednesday. The market seems to be in agreement with TSLA stock down -1.3% in Wednesday's premarket. This, however, puts it directly in line with NASDAQ futures, which are declining due to meager growth and outlook from Microsoft's (MSFT) earnings release late Tuesday and Boeing (BA) missing its earnings consensus early Wednesday. Can CEO Elon Musk and Tesla turn this frown around?
Tesla stock earnings: Earnings call to turn on margin, volume guidance
With so much happening at Tesla, and with many a shareholder confused about CEO Elon Musk spending so much time with Twitter these last few months, the takeaways from the Q4 call should be fascinating. The biggest movers of Tesla stock will be guidance for 2023 deliveries and how recent price cuts will affect margins. A large number of predictions have been released of late, but one wonders how Musk's own prediction of a recession in 2023 will affect this delivery number.
"Musk needs to rip the band-aid off and lay a more realistic delivery target for 2023 so the Street will have confidence in this number," wrote Dan Ives of Wedbush Securities recently. "We view 35%-40% delivery growth for 2023 as the line in the sand based on whisper numbers with 1.8 million units the general bogey for the year."
1.8 million units is well above the ~1.3 million units delivered in 2022. Tesla delivered more than 405,000 units in Q4 alone, a new record for the king of electric vehicles.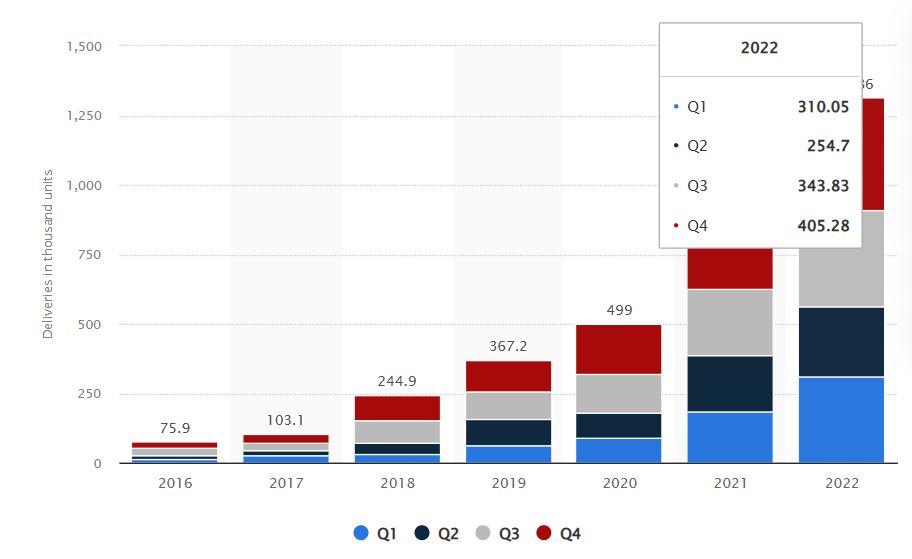 Tesla deliveries by year between 2016 and 2022. Source: Statista
Rumors in recent weeks have given a special place to Tesla executive Tom Zhu, who became better known in his role as the head of Tesla's operations in China. Observers will be excited to see if the China-born Tom Zhu makes an appearance on Tesla's earnings call since some have predicted he will eventually become CEO of Tesla. Zhu is now in charge of Tesla's North America and Europe production and sales operations as well.
The second big focus for shareholders will be margins. Oppenheimer says that Tesla needs to keep vehicle gross margins in the mid-20s despite its recent price cuts. The market wants to know how these price cuts, which range from 1% to 19% depending on the configuration, will affect margins and profits.
Lastly, Wall Street consensus expects Tesla to earn $1.11 per share on revenues of $24.32 billion in Q4.
Tesla stock news: Semi factory coming in Nevada
Many analyst questions on Wednesday's earnings call may also concern the planned $3.5 billion factory in northern Nevada. The plant would be used to build the company's new electric semi-trucks, which Pepsi (PEP) is currently trying out in California.
CEO Elon Musk has been in the news of late for a number of reasons. First, Elon Musk testified in court on Monday that his famous "funding secured" tweet was based on facts. Musk stated under oath that he had been in talks with the Saudi sovereign wealth fund about taking Tesla private at $420 a share in 2018, adding that the price tag was only coincidentally the same as the number that references cannabis.
Also Musk has been hammering the shareholder services companies Glass Lewis and ISS for "controlling" the stock market. The firms provide voting advice to institutional shareholders and index funds.
Tesla stock forecast
Tesla stock is already up 33% year to date and has been in a solid uptrend according to the chart below. The Moving Average Convergence Divergence (MACD) is in an uptrend, as are the dueling moving averages. The 9-day moving average is gliding above its 21-day counterpart, a bullish sign. The next two resistance levels of note are $154 and then $167.50. Support can be found at $128.50, especially in the case of a poor call.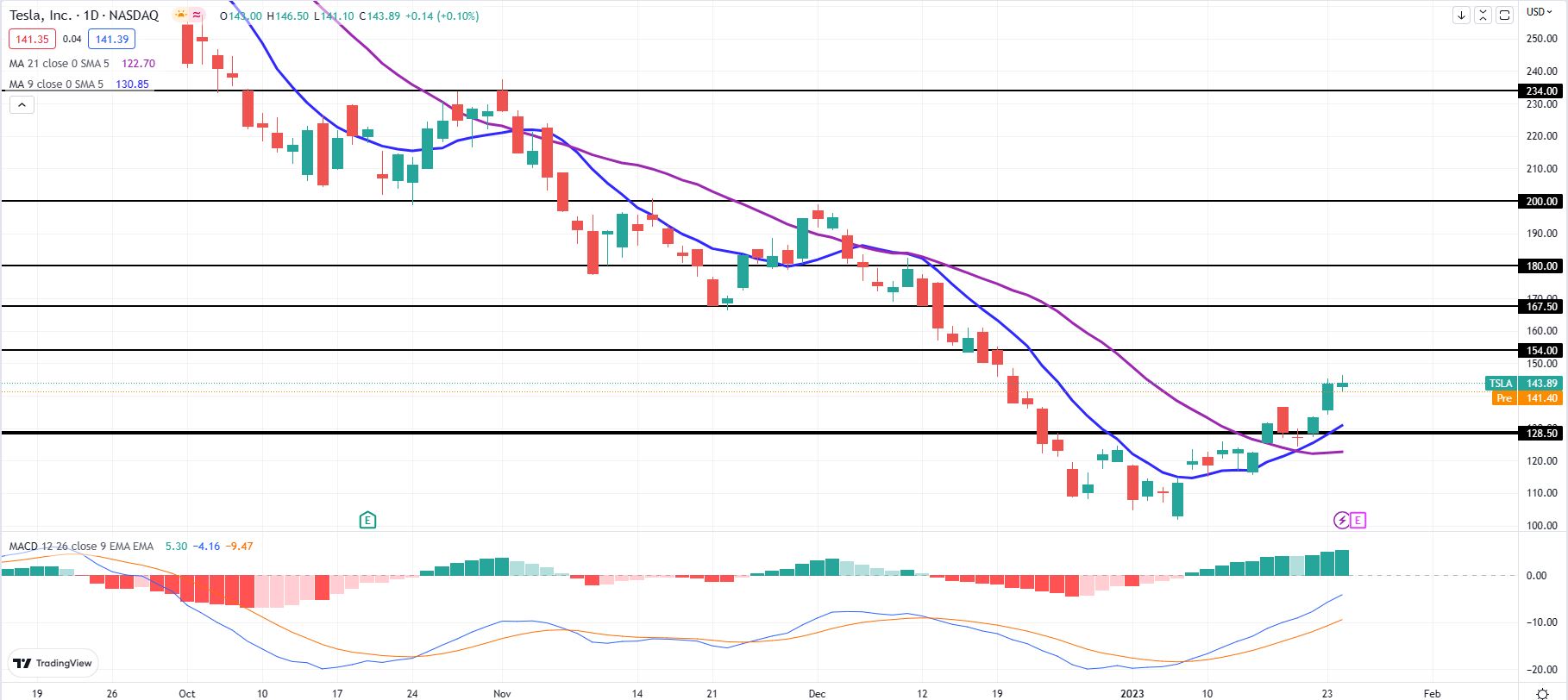 TSLA daily chart
This article was originally published by Fxstreet.com.Read the original article here.