Share:
The USD/CLP is breaching into significant highs as the Chilean Peso crumbles.
CLP down significantly as the Chilean central bank starts to axe interest rates in the face of evaporating inflation.
Market economists expect the Banco Central de Chile expected to begin making 100-point rate cuts in the coming months.
The Chilean Peso (CLP) continues to decay in markets, falling over 5% against the US Dollar (USD) and sending the USD/CLP pair into ten-month highs near 896.0000.
CLP slides on waning copper demand, rapidly-dwindling inflation
The Chilean Peso has declined for three consecutive months against the Greenback as the Banco Central de Chile (BCP) struggles to keep interest rates on-balance as inflation recedes quickly from the Chilean economy.
Inflation reached a two-year low in Chile, down to an annualized 5.3%. The rate of inflation has dropped for 9 straight months, leaving the BCP in the unenviable position of having to step up rate cuts at an increasing amount.
The BCP cut its benchmark rate by 75 basis points at its September meeting, and market economists anticipate the Chilean central bank may have to begin examining 100-point cuts in the near future in order to support the broader economy.
Copper prices continue to sag in the market, down to $3.71 per pound to finish out the week, with the red metal down from January's high of $4.27/lb.
Combined with weak copper values, copper demand from China continues to worsen as their economy faces downside constraints. Chile, the world's largest single producer of copper, is especially exposed to floundering Chinese demand, keeping the CLP on the weak side.
USD/CLP Daily chart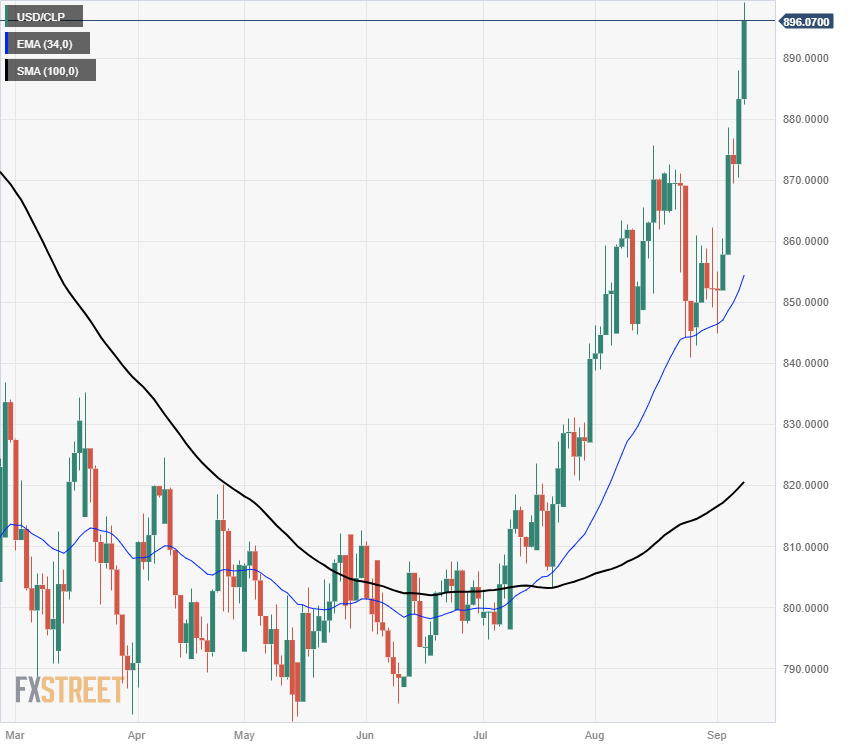 This article was originally published by Fxstreet.com.Read the original article here.