Share:
PLN crumbling on the back of too-soon rate cut from Polish central bank.
USD/PLN soaring to five-month highs as market punish Zloty.
PNB Governor Glapinski accused of political manipulation ahead of bitter general election.
The Polish Zloty (PLN) has plunged in value on the back of an unexpected rate cut from the Polish National Bank (PNB). The PNB gave a 75-basis-point cut to the country's interest rate, down to 6%. Inflation still remains a frontline battle for Poland, and the head of the PNB, Governor Adam Glapinski has been criticized for political motivations behind the move.
Zloty tumbles after rate cut despite high inflation
The PLN is poised for its biggest single-week decline in a year, sending the USD/PLN chart soaring to the 4.3200 region from the week's opening price around 4.1270. The Zloty has fallen 5% against the Greenback (USD) in market trading.
PNB Governor Glapinski has come under fire for the unexpected rate cut, with criticisms from economists and politicians alike taking turns accusing Glapinski of political motivations. Glapinski is an open supporter of the ruling Law & Justice, a right-wing national-conservative government party.
Poland is facing a tight general election next month, and Glapinski is accused of using the poorly-timed rate cut as a means of providing support for the Law & Justice party by temporarily reducing lending and borrowing costs at the expense of the broader economy.
Flash estimates put Polish inflation in the double digits at 10.1%. During a news conference on Thursday, Governor Glapinski declared that the PNB had achieved "victory" over inflation, citing key price growth figures that the central bank does not currently publish.
The PNB Governor also declined to provide comment on the path of rate cuts in the future, claiming that the Polish central bank had now adopted a "wait-and-see" approach to monetary policy.
The price of 3-month Zloty-Euro (EUR) basis swap contracts exploded nearly 50 basis points higher on the rate cut, reaching a peak of 175 points. It has become increasingly expensive for foreign investors to borrow against the Zloty for the purposes of shorting the currency.
Last year Polish authorities took steps to prohibit shorting the PLN by restricting liquidity, in an effort to put a ceiling on further losses for the beleaguered currency which has lost over half of its value since the 2008 global financial crisis.
USD/PLN 4-hour chart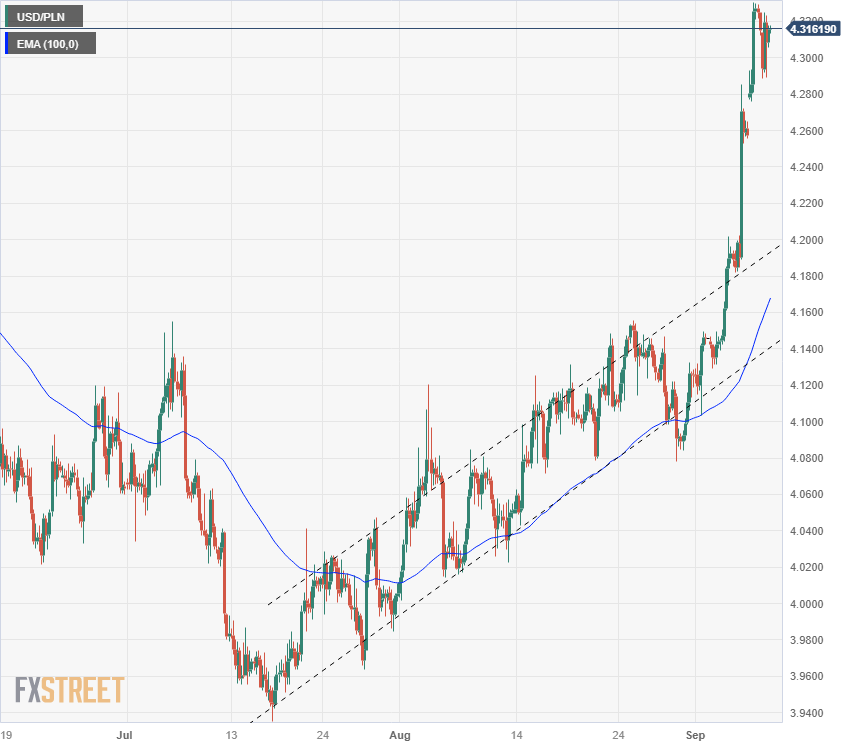 This article was originally published by Fxstreet.com.Read the original article here.