Share:
WTI rose near the $82.90 zone, setting a three-day winning streak.
Supply crunch fears amid the Hurracain Idalia tractions Oil prices.
A stronger USD and the fragile Chinese situation may limit the upside.
The West Texas Intermediate (WTI) rose on Wednesday and threatened the $83.00 resistance.
What is driving the price upwards is Hurricane Idalia approaching the Gulf of Mexico, where the US concentrates 15% of its Oil production and supply crunch fears are increasing crude prices. In addition, the report of lower-than-expected US crude stockpiles released on Tuesday and the continuing manoeuvres by OPEC+ to extend its voluntary production cuts also contributes to the upside.
Moreover, China reported soft economic data during the Asian session, with the Non-Manufacturing PMI decreasing to 51.00, vs. the 51.1 expected, and the weak Chinese outlook may limit the black gold's gains. In line with that, the USD is trading strong against most of its rivals, which could also hold back the WTI bulls.
WTI Levels to watch
Analysing the daily chart, it is apparent that the WTI has a neutral to bullish technical stance, with the bulls gradually recovering ground. The Relative Strength Index (RSI) has a positive slope above its midline, while the Moving Average Convergence (MACD) lays out decreasing red bars. Moreover, the pair is above the 20,100,200-day Simple Moving Average (SMA), implying that the bulls retain control on a broader scale.
Support levels: $81.25, $80.00, $78.50.
Resistance levels: $83.00, $83.50, $84.50.
WTI Daily Chart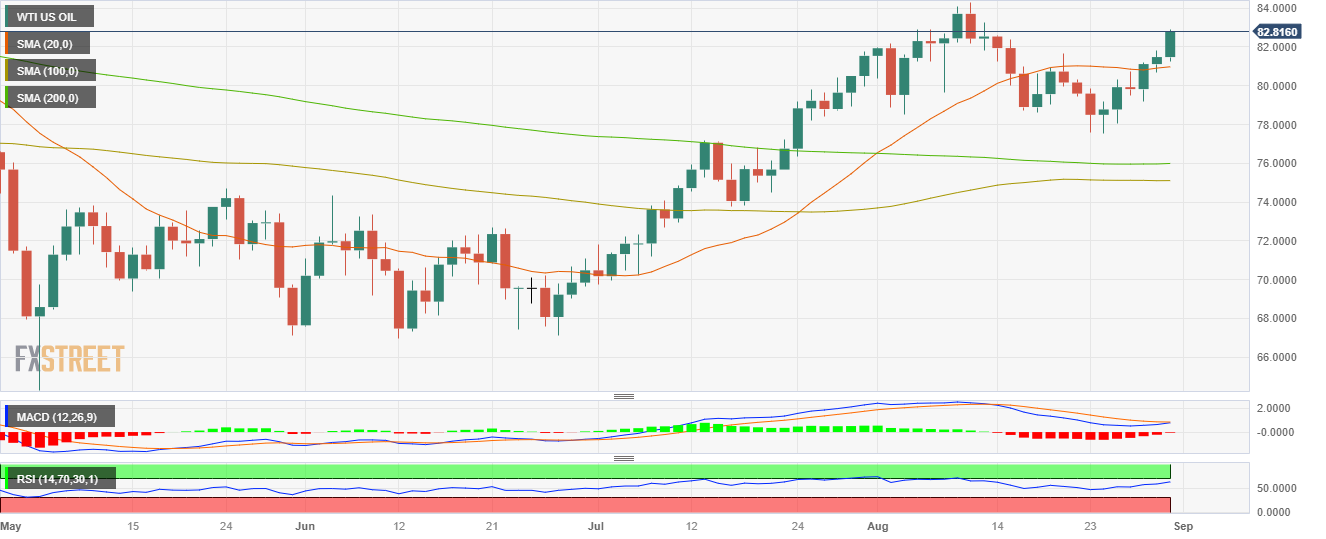 This article was originally published by Fxstreet.com.Read the original article here.